Lok Sabha Elections 2019 |With AAP alliance we would have won all 7 Delhi seats, now we won't: Ajay Maken
Congress' New Delhi candidate Ajay Maken claims without an alliance with the Aam Aadmi Party, winning all seats in Delhi will be tough.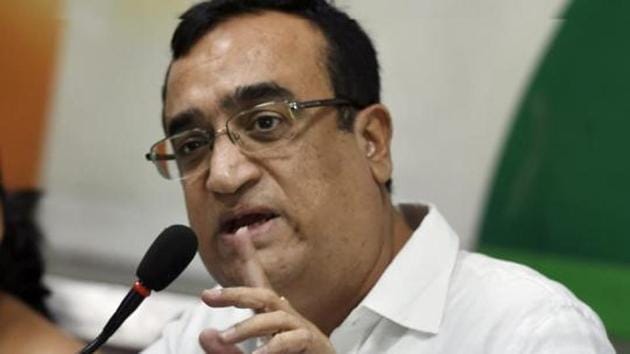 Updated on May 07, 2020 04:18 PM IST
Ajay Maken, Congress candidate from New Delhi constituency, is contesting his fourth consecutive election from the same Lok Sabha seat. He has won the seat twice — defeating Bharatiya Janata Party's (BJP) Jagmohan in 2004 and Vijay Goel in 2009. He lost to BJP's Meenakshi Lekhi in 2014.
Maken,55, claims his experience gives him an edge over BJP's Lekhi and Aam Aadmi Party's Brijesh Goyal. In a candid interview, Maken said without an alliance with the Aam Aadmi Party, winning all seats in Delhi will be tough.
Excerpts:
If you have to pick three key issues in New Delhi Lok Sabha constituency, what would they be?
Stopping the sealing drive will be my top priority. Sealing had happened even when I was the Union urban development minister in 2006. That time, I stopped it within a month by making over 170 amendments to the Master Plan for Delhi and notifying over 3,000 streets.
The next step will be resolving the issues of government employees, which includes addressing anomalies of the Seventh Pay Commission. Third, will be betterment of slums. I will restart in-situ slum rehabilitation project. We had started the Kathputli Colony rehabilitation project through the Delhi Development Authority, which had to be stopped later due to some disputes.
Also Watch | Lok Sabha Elections: No Cong-AAP gathbandhan in Delhi; is it advantage BJP?
But considering the political situation is quite different now, will it be equally easy to stop the sealing drive?
Why do you think that if I become an MP, I won't be a minister? (laughs) Otherwise too, an MP is an important functionary of the government even if he/she is in the Opposition. I am not like the AAP or the BJP MPs, who keep shifting blame. I am confident that if I go to a minister or an officer with a solution to a problem, they will act on it. If they don't, they will face me in the Parliament. I am not the kind who'll sit on a dharna in front of Mahatma Gandhi's statue in Parliament. I am a man of action and I know how to get work done.
Also Read | Lok Sabha elections 2019: Fight for New Delhi's Lok Sabha constituency has local issues at hand
You were strongly in favour of a Congress-AAP alliance. Now that it is a triangular contest, do you think the fight has become tougher for the Congress?
Had there been an alliance, we would have won on all seven Delhi seats by margins of 2-3 lakh each. Now, we won't win all seven seats and the margins will be smaller. But, it is also about conviction. When I stepped into the political arena, no one gave me a chance against BJP's three-time MP Jagmohan. But, I defeated him by over 12,000 votes in 2004. In the 2009, I defeated BJP's Vijay Goel by about 2 lakh votes. So, in the past also I have seen these moments and I am sure the real issues of unemployment, sealing, injustice to Central government employees and slums will make people vote wisely.
Do you think anti-BJP vote will split?
Anti-BJP votes won't split much. People are going to vote for the Congress because our candidates have huge administrative and political experience. Many of us also have an unblemished track record.
Also Read | AAP, Congress battle for Muslim votes as BJP banks on split in Delhi
What do you think of AAP's candidates? All of them are fighting the elections for the first time
People do not have much confidence in the AAP candidates. But, I must say that some of them have made their mark.
Who is a bigger competition for you - the AAP or the BJP?
This is a national election. So, the Congress is in a direct fight with the rival national party, which is the BJP.
What is Congress' stand on full statehood for Delhi?
Our manifesto is very clear about full statehood. We have categorically said that barring three things — land, law and order and police — the Delhi government should have full administrative powers and the Lieutenant Governor should act on the aid and advice of the council of ministers.
Close Story