Secular affair: With mass marriage of Hindu and Muslim couples, this Kanpur hamlet leads the way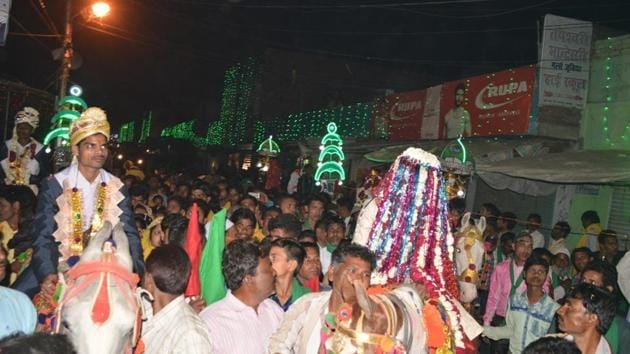 Updated on Mar 04, 2017 12:38 PM IST
Amidst chanting of Vedic hymns and Quranic verses, Suresh welcomed Naushad while Rahman went on to hug Sunil. They congratulated each other on their marriage with girls of their respective communities under one roof. The unique occasion was mass marriage of 10 Hindu and Muslim couples, which was hosted by 8,000 locals who organised the event at Rawatpur, a small hamlet situated on the outskirts of Kanpur.
Mahant Alok Dubey performed the rituals while Pesh Imams of local mosques Ziaur Rehman and Asghar Ali solemnised the 'nikah' late on Thursday night. With that, Rawatpur became a perfect example of secularism and brotherhood.
However, just a few months back the same village was in the news for all the wrong reasons-- communal flare-ups, for instance, that would spread to nearby areas as well.
Perturbed with the developments, social activist Mohammad Shakeel came up with a novel initiative and mooted the idea of mass marriage of Hindu and Muslim couples. The overwhelming response left him pleasantly surprised. "I never thought the response would be so positive. Everyone supported it," he said and added, "People made arrangements for the event and market was closed for the day as the entire village was present at the ceremony. It was so heart-warming."
Back in the pandal, the scene was that of rare bonhomie. The grooms from both communities welcomed and congratulated each other before the ceremony. The guests showered petals on the couples and everyone wanted similar initiative to foster communal harmony.
Sunil Batham who married Arti said, "I have appealed to people to keep organising such an event every year. It has become the biggest example of communal harmony and insaniyat (humanity)."
Chote Babu, who entered into the wedlock with Shahnaz Bano, decided that his marriage would take place at the event after he heard about it, said, "Such bonhomie is the need of the hour to tell everyone we are one."
Last year too, on Shakeel's call, Muslims had escorted the Ram Navmi procession while Hindus led the processions taken out to mark the birth anniversary of Prophet Mohammad.
Close Story