Uttar Pradesh has immense potential for religious tourism: Yogi Adityanath
Published on Jun 27, 2017 04:06 PM IST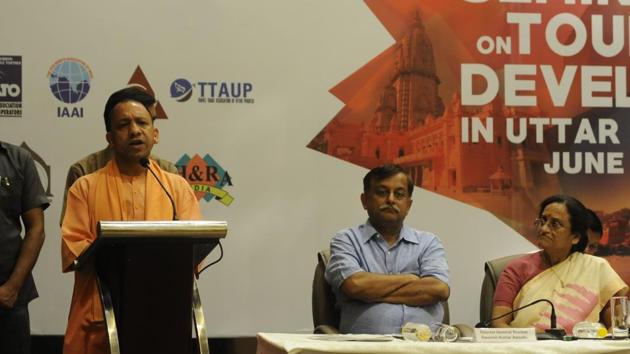 Chief minister Yogi Adityanath on Sunday said Uttar Pradesh had enough potential for religious tourism but earlier people used to refrain from taking the name of 'Ayodhya' as it was considered communal.
Addressing a seminar organised by UP tourism department here, the CM said UP had all the resources to become a tourist destination. "We need to tap the resources and promote tourism," he said.
The CM launched tourism department's portal 'One-stop travel solution'.
Taking pot shots at the previous government, Yogi said: "Religious tourism can be the state's mainstay but people earlier used to avoid taking the name of Ayodhya as it was considered communal. They wore a band of secularism on their eyes."
Citing the example of Indonesia, Yogi said even after being the biggest Islamic country in the world, people and places there had Sanskrit names and Ramleela was a part of the country's culture.
"Though Ram Manohar Lohia was a socialist and an atheist, he was of firm belief that Ram, Krishna and Shiva were central to the country's culture and survival," he said.
Assuring the people that all facilities will be made available in Allahabad for the 2019 Ardh Kumbh, he said, "The number of devotees arriving at the Kumbh Mela is more than the population of some countries."
The CM instructed the officials of the tourism department to launch an advertising campaign to make people aware of historical and religious places of the state that could attract tourists.
Yogi said all tourist destinations would be connected with a helicopter service and 10 airstrips lying defunct would be reactivated.
Lucknow, Ayodhya, Varanasi, Prayag (Allahabad), Naimisharanya, Chitrakoot, Kushinagar, Mathura and Vrindavan are likely to be connected with helicopter service.
The CM said Ramayana, Krishna and Buddhist tourist circuits were on the priority list of the state government.
He announced that after Jewar airport in Noida, the state would get another international airport in Kaushambi, a world famous tourist destination for Buddhist pilgrims.
Speaking on yoga, the CM said all 'asanas' were the creations of Guru Gorakhnath.
Presently, Uttar Pradesh stands on the second position in the country in terms of tourist footfall.