Infectious, enthusiastic, relevant: A physicist's take on Richard Feynman
Arnab Bhattacharya, chair of science popularisation and public outreach at TIFR, on what the award-winning physicist means to him.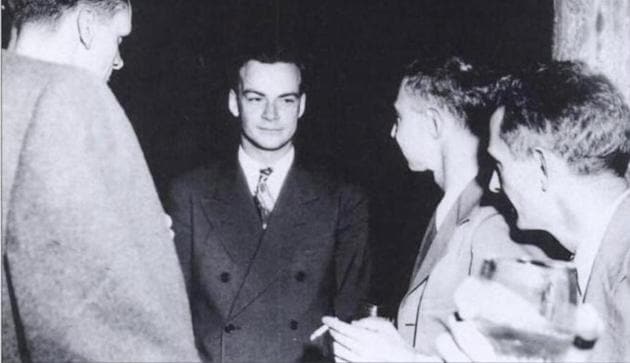 Updated on May 12, 2018 08:14 PM IST
Hindustan Times |
Arnab Bhattacharya
As a physics student in college, my introduction to Richard Feynman was, not surprisingly, through the Feynman Lectures in Physics – three iconic books, in a style different from most textbooks on problem- solving techniques. The tone was conversational; the examples, excellent.
I admit I didn't make much headway beyond Volume 1, but I did read the semi-autobiographical classic, Surely You're Joking, Mr. Feynman! more than once. Beyond the hilarious and sometimes outrageous pranks of a Nobel Laureate (like breaking into safes containing US atomic bomb secrets), I was amazed by his passion for learning new things, his desire to test claims through experiment, and his absolute distrust of authority.
To me, Feynman seemed a little bit like a grown-up version of Mark Twain's Huckleberry Finn – a natural storyteller, curious, smart, mischievous and frank. Also, being the tinkerer of the family, opening up every electronic appliance at home, I could relate to the book's story about repairing radios!
I should say that while preparing to write this piece, I re-read Surely You're Joking…, and honestly, was not as enamoured by it as when I first read it as an 18-year-old. Some stories suggest he was rather arrogant, with little respect for people not as intelligent as himself. Even worse, a few anecdotes portray him as a sleazy womaniser! Seen through a 21st-century lens, they seem a tad offensive, even though they present an honest human side of a brilliant person.
However, there are a several serious themes beneath the caricatures and cartoons that are relevant even today. Feynman would have been 100 this month, and I'd like to believe that those themes are more important than the idea of a showman scientist. Feynman had strong views on science education, and was an outspoken critic of pseudoscience, both topics of discussion in India today. His criticisms of school science education in Brazil in the 1950s – a system dependent on rote learning, focused on passing tests rather than using science to understand the world – certainly still ring true.
In 1964 Feynman was asked to help review California's school-level mathematics textbooks. He expressed his reservations with the way topics like set theory were being taught with no connection to their applications in the real world. He also wrote about the need to encourage flexibility in problem solving: instead of teaching a fixed way to solve an arithmetic problem, he recommended that students get "much greater freedom in obtaining the answer - but, of course, no freedom as to what the right answer should be".
One of his most famous addresses was before the US National Science Teachers Association, in 1966, where he not only presented his response to the question of "What is Science?" but also advocated for making students think like scientists, encouraging them to be both open-minded and questioning of findings.
Feynman's creative, humourous style of storytelling made him a great science communicator. He spoke with an infectious enthusiasm – whether it was the analysis of the rubber O-rings responsible for the Challenger space shuttle disaster or the 'Plenty of Room at the Bottom' talk outlining the field of nanotechnology. Some of his most scathing remarks have been in talks debunking pseudoscience, which he called "cargo cult science". Time and again, he spoke about the need for scientific integrity, in conducting experiments, in reporting data, and not allowing scientific results to be selectively presented, especially when giving governments advice.
In Feynman's own words, science is "a long history of learning how to not fool ourselves". You surely weren't joking, Mr Feynman. Your words are still relevant today.
(Arnab Bhattacharya is the chair of science popularisation and public outreach at the Tata Institute of Fundamental Research, Mumbai)
Close Story