Puli review: Vijay's fantasy drama is a fantastic flop
Updated on Oct 01, 2015 05:13 PM IST
Vijay-starrer, fantasy adventure Puli, despite all the hype it created in its pre-release weeks, is utterly disappointing.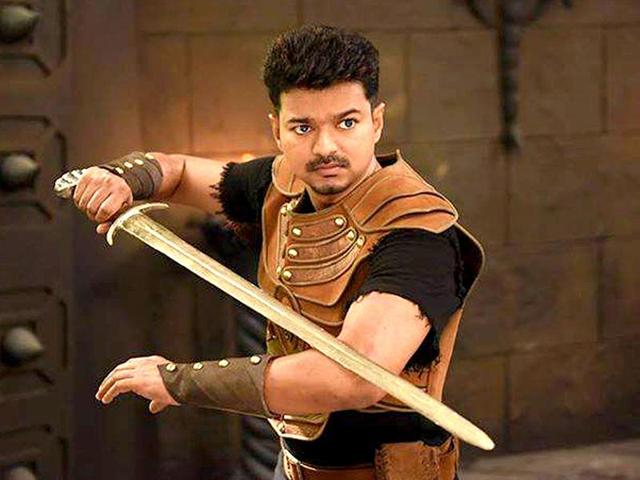 Hindustan Times |
, Chennai
Gautaman Bhaskaran
Puli
Director: Chimbu Deven
Cast: Vijay, Sudeep, Prabhu, Sridevi, Shruti Haasan, Hansika Motwani
Rating: 1/5
Often Indian cinema is sheer fantasy, trying to spin the unbelievable into a story and script. And some Tamil films -- at least those that step into the genre of fantasy -- can be just unbearable to watch. Vijay-starrer, fantasy adventure Puli, despite all the hype it created in its pre-release weeks, is utterly disappointing.
With all the halo and aura around him placed by his innumerable fans, Vijay just does not perform. Absolutely wooden to the core, his face appears like a mask, totally masking his emotions.
As Maru Dheeran, Vijay plays a valiant hero -- whose village and folks are at the cruel mercy of a wicked general of what seems like a mythical kingdom and in mythical times. It is ruled by Sridevi's Queen, and her princess-daughter (Hansika Motwani) flips for our hero, when he dares into the kingdom after being pushed by his people, hurt and killed and humiliated by the general. Maru Dheeran hopes to meet the Queen to find out whether better sense will prevail.
Puli music review: This is about big, entertaining songs
There is one scene early on in the movie where the general chops off the arm of a man (Prabhu) who had been courageous enough to seek the Queen's help to end the tyranny. It reminded me of Gabbar Singh and that famous shot where he decapitates Thakur's arm. But Sudeep is no Amjad Khan.
Puli is the role you get once in a lifetime: Sridevi
At 154 minutes, Puli is swamped with songs -- some of them titillating skins shows, and a few others, a mere ploy to get Maru Dheeran and his lover, Pavazhamani (Shruti Haasan), together on a romantic high. But there is little chemistry between the two, Vijay's stiffness and Haasan's laboured dialogue delivery making it just about impossible for Cupid to strike any real note.
Fantasy films not bound by language: Puli director Chimbu Deven
Production values are uneven, and some of the mythical sequences look pretty much amateurish. And, in the end, we wonder what the plot was about. You could say that it was about an evil commander who terrorised a territory under him, till a wisp of a man came along to beat him at his own game. Yawn, yawn, we have seen this a million times on screen.
Certainly director-writer Chimbu Deven could have thought of something better than this juvenile romp into fantasy land.
ott:10:ht-entertainment_listing-desktop
Personalise your news feed. Follow trending topics