100-acre wetland patch near Mumbai destroyed, say fishermen
Updated on Jun 02, 2017 01:00 AM IST
Mumbai city news: This is the seventh case of wetland destruction reported from Kasheli creek in the past year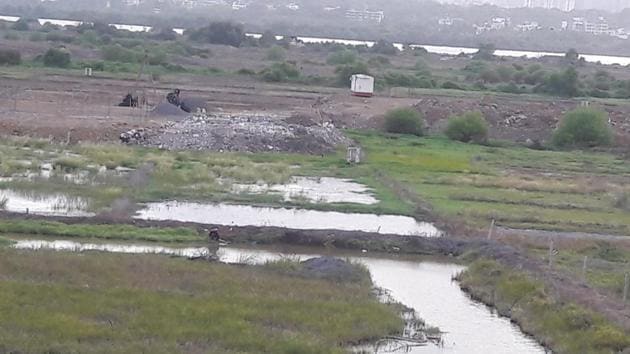 Despite a court order from 2014 banning reclamation of wetlands, a 100-acre patch near Kasheli village in Bhiwandi district is being reclaimed for real-estate development, alleged a local fishing group.
While the district collector of the area has initiated an enquiry into the matter, sub-divisional officers are unaware of the exact land patch which is allegedly being reclaimed and are yet to take action.
As monsoon is just few days away, the fishermen fear that development on the wetland patch will lead to flooding.
This is the seventh case of wetland destruction reported from Kasheli creek in the past year.
Wetlands are areas of land that are either temporarily or permanently covered by water depending on the season.
The Bombay high court banned all reclamation and construction on wetlands in 2014, after Vanashakti filed a public interest litigation (PIL) on the protection of wetlands. "The area where the violation has taken place is an ecologically sensitive zone where debris has been dumped," said Nandkumar Pawar, head, Shree Ekvira Aai Pratishthan (SEAP). "Water logging and flooding are regular features at this remote location."
Almost a decade ago, the state government had handed over 195 acre of wetlands along the Vasai creek all the way to Kasheli and Kahler villages to the fishing community for fish culture and crab farming. Pawar added that the reclamation is underway in a systematic manner from all corners of the site.
"Without any fear, over a hundred acres of wetland is under threat from land sharks and local politicians, who have the support of local gram panchayat," said Pawar. "It is a gross violation of wetland rules and coastal regulation zone notifications."
The district collector told HT that his department had taken cognisance of the complaint. "I directed my sub-divisional officer (SDO) to survey the area and take action if there has been a violation at the site. Prima-facie, it seems like the wetland has been destroyed and I have also directed my officers to restore the site to its original status," said Mahendra Kalyankar, Thane collector.
Meanwhile, when HT had first contacted the SDO, he said he was unaware about such a violation but responded to the query later saying, "As per our enquiry, there has been no massive reclamation at the site. We are still investigating the matter and a report will be submitted with the collector soon," said Santosh Tithe, SDO Bhiwandi.
Personalise your news feed. Follow trending topics