30-year-old burns 3 kittens in Mumbai for "fun", held
A 30-year-old man from Mira Road was arrested by the Naya Nagar police on Wednesday for allegedly setting three two-month-old kittens on fire by placing them inside a burning carton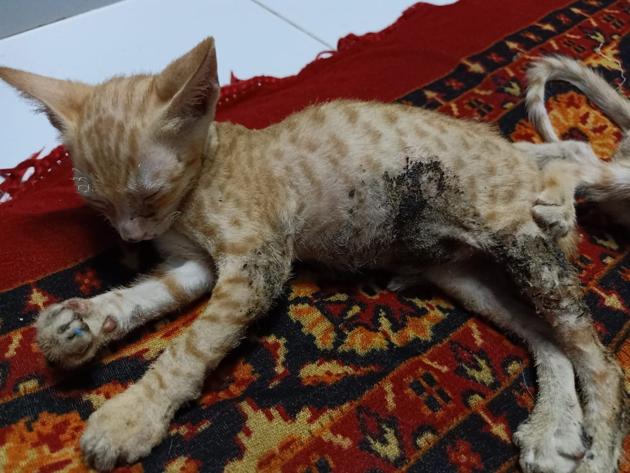 Published on May 03, 2019 01:30 AM IST
Hindustan Times | By Ram Parmar
, Mumbai
A 30-year-old man from Mira Road was arrested by the Naya Nagar police on Wednesday for allegedly setting three two-month-old kittens on fire by placing them inside a burning carton. According to senior inspector Kailash Barve, the accused, Siddesh Patel, a resident of Ajmal Rama CHS, Bhakti Park, Mira Road, allegedly said he burnt the kittens "for fun".
The three kittens, which were rescued by Patel's neighbour, are undergoing treatment and one of them is reportedly critical. They are living with one of the residents of the society.
Patel lives with his parents and does odd jobs for a living. Patel's neighbour, Alen Fernandes, 28, said there are around 50 stray cats in the society premises as most residents are animal lovers and the animals help control the rat menace. Fernandes said the incident came to light when one of the residents found the three kittens lying with severe burn injuries in the building lobby on Sunday morning and rushed them to Dr Rajesh Rohi, a vet.
"On checking the CCTV footage, we were shocked to find that around 2.30am on Sunday, Patel had entered the building lobby and lit a carton, in which the kittens sleep, on fire. He had then placed the kittens into it one by one," said Fernandes, adding, "Patel did not show any sympathy and walked away after watching the kittens burn."
Rohi said the kittens have suffered multiple burn injuries. "One of them suffered abdomen, paws and mouth burns. We have given them antibiotics and dressed the wounds," he said. As cats have fur coats, the burns are serious, and as the kittens were running, the fire spread all over their bodies, he said, adding the animals were responding well to treatment.
After the incident, the society residents approached Zara Merchant, an animal activist from the area. She then approached the police and a complaint was registered. "We registered a case under section 429 (mischief by killing or maiming cattle) of the Indian Penal Code and section 11 of Animals Protection Act, 1962. Patel has been released on bail. When we questioned him, he said he did it for fun as he wanted to see the kittens burning," said Barve.
Fernandes also said that Patel had placed the burning carton near the meter box, with the gas pipeline a few metres away, but no utilities were damaged.
Close Story