Mumbai university gets its 'first transgender' student
There may be other such students at MU, but Sridevi is the first to officially enrol as a transgender.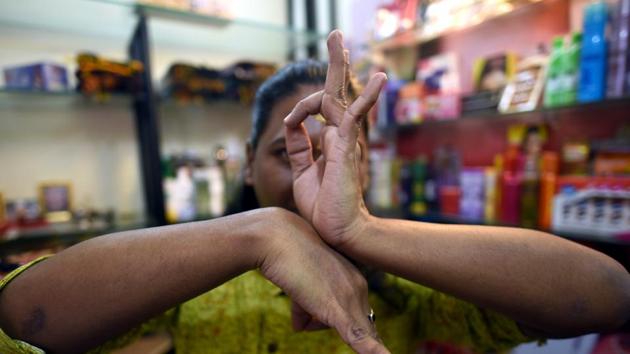 Updated on Feb 16, 2017 10:16 AM IST
In a first for the city, a student who identifies herself as transgender is enrolled in the University of Mumbai (MU).
An interior designer and make-up artist by profession, 32-year-old Sridevi (her adopted name) is pursuing a BA (psychology) at the Institute of Distance and Open Learning (IDOL). While she has been a student at IDOL for the past one-and-a-half years, her decision to enrol herself as a transgender was revealed only recently.
The development comes three years after the University Grants Commission (UGC), the higher education regulator, directed universities and colleges to treat transgenders as third gender for the purpose of admission and various scholarship schemes and programmes. MU had introduced a separate 'transgender' column separately, in addition to traditional "male" and "female" columns in 2015-16 — the same year Sridevi registered at IDOL.
There may be other such students at MU, but Sridevi is the first to officially enrol as a transgender.
Sitting in her small cosmetics shop in the city, Sridevi recounts the painfully familiar story of growing up as someone confused about her gender identity. Brought up in a poor South Indian family residing in a city slum, she found no support from her own family, faced abuse in her all-boys school and college and even sexual harassment in her locality.
"Since an early age, I figured that I am a woman trapped in a man's body and have lived as a woman ever since. When my parents discovered my "abnormal" behaviour, they took me to a priest in the city with the hopes of "curing" me. I kept visiting the temple where I was brought up in the devdasi tradition," she said.
But what sets Sridevi apart from most other members of the transgender community is her desire to continue educating herself and finding new opportunities in life, despite the odds being stacked against her. She began tutoring children to pay for her education when she was in Class 9. "My father earned a meagre salary, much of which was wasted thanks to his drinking habit," she said.
After passing out of school, Sridevi enrolled herself in a junior college in the city, with an aim to pursue medicine. Bruised by her traumatic experience in school, she maintained a low profile and kept to herself during the two-year period, which proved to be much calmer compared to her school days. However, her dreams of being a doctor crashed after she failed the Class 12 examination. "I was very tense because of the uncertainty about my gender coupled with my family's money woes," she said.
After doing odd jobs for a couple of years, she enrolled herself in a Diploma in Medical Laboratory Technology (DMLT) course, but couldn't complete it because she was unable to pay the fees. Later, she completed a three-year interior designing course at a college in the western suburbs. Sridevi said she continued facing harassment at college. "I would be teased by boys, but the girls were supportive," she said.
While working as an interior designer, she got herself trained as a make-up artist and began her career as a beautician. Anxious to stand on her own feet and break way from her non-supportive family — her father and siblings barely speak to her even though they live in the same house — a month ago, she set up her small cosmetics shop, with the help of her mother and some friends. A trained Bharatnatyam dancer, she also earns some money by dancing at social gatherings.
Sridevi said she decided to enrol at IDOL because she was eager to continue her education. "I chose psychology because I am very interested in it. I wanted to be a full-time student at one of the colleges, but it wasn't an easy option," she said, adding that she has plans to pursue a Masters degree as well.
She is hopeful that her example will motivate similar other students to pursue higher education. "Unless you study, how will you get what you want. Education gives you an ability to think better and helps you adjust better in society," she said.
She also asked colleges and schools to do their bit to support transgender students. She suggests sensitisation of the students and counselling of parents as some of the ways to help the third gender.
"The motto of IDOL is to provide opportunities to those who have discontinued education. We will continue to support disadvantaged groups such as girls — who form a majority of the distance learning students — senior citizen and transgenders, in their pursuit of education," said Vinod Malale, public relations officer (PRO) at IDOL.
READ MORE
Anjali Lama, first transgender model at LFW, moves to Mumbai: Never been so busy
When girls from Mumbai's red-light area took the stage at Lakme Fashion Week
Close Story