Fliers in Mumbai hit as 161 flights cancelled, 57 diverted; main runway to resume ops soon
A SpiceJet aircraft, which overshot the main runway at 10 pm on Tuesday, was towed away late on Wednesday night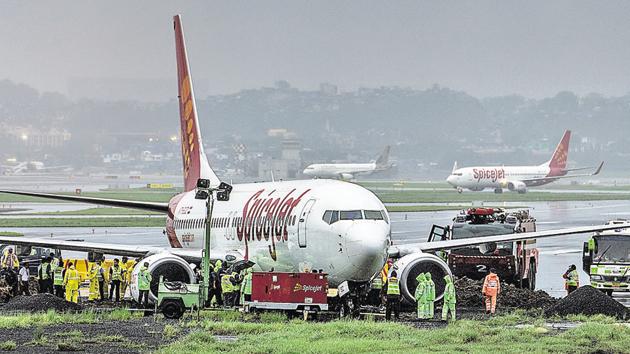 Updated on Sep 21, 2017 01:04 AM IST
Hindustan Times |
, Mumbai
Neha LM Tripathi
Heavy rain disrupted flight operations at the Mumbai airport on Wednesday.
A SpiceJet aircraft, which overshot the main runway at 10 pm on Tuesday, was towed away late on Wednesday night. The main runway, which remained close due to the mishap, was likely to be operational within a few hours, said an official. During the rescue operation, the authorities used the secondary runway, slowing flight operations. As many as 161 flights were cancelled and 57 flights were diverted between midnight and 8 pm on Wednesday. Eight planes had to do go-arounds.
Passengers also had to put up with delays up to an hour.
Jet Airways' flight 9W 537 (Dubai- Mumbai) that was to land Mumbai at 11.10 pm on Tuesday night landed at 4pm on Wednesday. It was diverted to Bengaluru. Pratiksha Chavan, who was on board, said, "There was no communication from the airline for more than six hours. Passengers were not updated about the situation and the airline's many flights were diverted to Bengaluru that led to chaos."
An official from Mumbai International Airport Pvt. Ltd (MIAL) said no flights were diverted on Wednesday, but admitted that 63 Jet Airways, eight Indigo, three SpiceJet, two Air India and one GoAir flights were cancelled till 5pm. Jet Airways, GoAir, Indigo, Vistara said they would waive off date/ flight change charge and refund all confirmed tickets issued for Wednesday.
Meanwhile, the SpiceJet aircraft , a Boeing 737, was successfully towed away after two botched attempts. Officials will inspect the main runway before making it operational. "The runway will be operational in few hours after safety requirements are met," said an official.
"The process to remove the aircraft was affected due to continuous rain," said the MIAL spokesperson. An expert said, "Boeing 737 is not a heavy aircraft. It should not have taken this much time to remove it. The delay shows we don't have required equipment and manpower to tow away such planes."
Close Story