A summer scare: One hand pump and 5,000 people in Maharashtra's Ghanichamata
Farmers brave heat, women queue up for water in Ghanichamata; tehsildar says alternative connection possible but corporator says locals have no valid papers.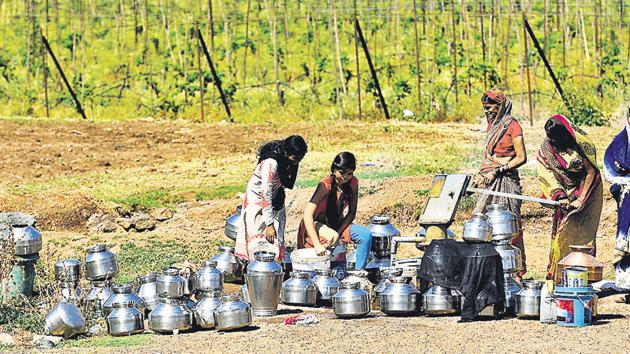 Published on Apr 24, 2019 04:32 PM IST
Hindustan Times, Mumbai |
Eeshanpriya M S
Less than 25kms from Nashik city, in Ghanichamata, on the outskirts of Dindori village, which is grappling with drought, a single hand pump caters to nearly 5,000 residents.
Every day, braving the summer heat, women stand in never-ending queues, sometimes for four to five hours, to fill their pots with drinking water. And by mid-summer, this hand pump too, dries up, leaving the residents, mostly landless labourers, with no option, but to plead with their employers to allow them to draw water from privately-owned wells.
While water availability and irrigation have become prime agendas for candidates contesting the Lok Sabha elections from this region, the residents of Ghanichamata, too, have approached authorities and politicians many times, but to no avail. While the tehsildar of Dindori said alternate water connection can be procured for the settlement, a corporator from the area claimed the residents do not have valid papers for the same.
"There is always a queue here," says 45-year-old Durpada Dhamne, a resident of Ghanichamata, who is at the hand pump every day at 4am. "Filling up water is a daily ordeal, and goes on all day. We need to free up more than four hours of our day daily for this."
On an average, a woman from Ghanichamata works close to 20 hours a day. Of this, she dedicates more than four hours to filling up 10 to 12 pots of drinking water at this hand pump. Gayatri Jondhale, 35, who works on a farm in the neighbouring village, says she is at the hand pump as early as 2am every day. "I work between 9 am and 7 pm. I wrap up my chores at home by 11pm and sleep for three hours, because I have to be at the pump to fill water by 2am. Then, I am here waiting for my turn and return home only by 6am."
The ground water in this area dries up between mid-April and mid-June. "If the region sees good rainfall during the monsoon and we are lucky, the remaining months are better," she says.
So what happens when the hand pump also dries up? Anita Dalvi, 30, another resident of Ghanichamata, says they have to go around asking several houses for permission to use private wells. "During summer months, we have to walk over a kilometre to nearby private wells. Some people let us draw water, but sometimes we have to go around asking several houses before someone agrees to help."
Dindori, which had a gram panchayat until 2016, was converted to a municipality and Ghanichamata falls within the purview of the newly-formed civic body. Baba Saheb Gadhve, the tehsildar of Dindori says, it is possible to provide drinking water to the area. "We have to get this checked. It is possible to provide the area with an alternate connection for water supply."
However, Tushar Waghmare, general secretary of the Bharatiya Janata Party (BJP) unit from the tehsil, and corporator from the area said all the families there do not have requisite papers to give them water connections, even while residents said close to 4,000 of them have valid voter ID cards. "This settlement came up around 15 years ago. The houses do not have all the requisite papers for us to give them water connections. But under corporate social responsibility funds, we have recently proposed setting up an RO plant in this area. Work will be completed shortly."
Close Story
Personalise your news feed. Follow trending topics