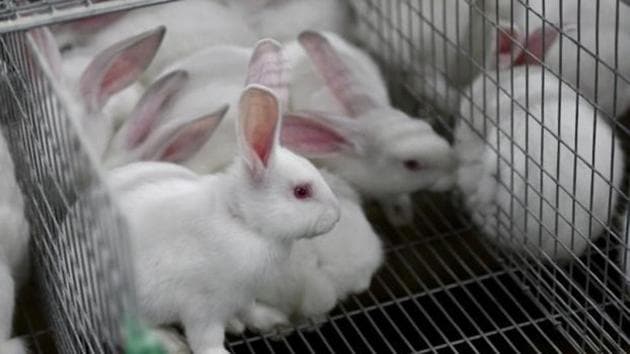 Animals will not be used or killed for course research soon
Medical Council of India works on animal-free curriculum for graduate and post-graduate courses.
Hindustan Times | By Sadaguru Pandit
, Mumbai
UPDATED ON JUL 12, 2018 04:02 PM IST
Use of animals for experiments and research across medical and other courses in India will soon be stopped.
Taking note of a letter sent by Shatrughan Sinha, MP and former health minister, the Medical Council of India (MCI) has confirmed that they will soon create an animal-free curriculum for graduate and post-graduate students.
Sinha sent a letter to Dr Jayshree Mehta, president, MCI, after People for the Ethical Treatment of Animals (PETA), India, got in touch with him. Dr Mehta said they are positively working towards the suggestions sent by Sinha and PETA in the letter and will soon respond to him.
"When I assumed duty in 2013-14, we completely abolished the use of animals in medical laboratories across the country. Animals are only used in post-graduate pharmacology courses for research, but we are working on creating virtual laboratories as a substitute," said Mehta.
Animals, mainly rodents such as guinea pigs, rats and rabbits, are used in pharmacology departments to test the efficacy of medicines and during practicals for post-graduate examinations. Dissection of animals for physiological courses is banned in Maharashtra.
The alternatives, Sinha pointed out, are cost-efficient computer-assisted learning, clinical exercises, and human-patient simulation technologies— techniques used in top medical schools worldwide. "Animal dissection is a vestige of a crueller, less enlightened time before modern technology and teaching methods existed," wrote Sinha. "Moreover, in 2012, the Ministry of Environment, Forest and Climate Change issued guidelines to the Medical Council of India, the Pharmacy Council of India, and the University Grants Commission to stop dissection and experimentation on animals entirely in the training of under-graduate and post-graduate students and to use only non-animal teaching methods," he said.
Dr Pravin Shingare, director, Directorate of Medical Education and Research, said animals are rarely used for pharmacology examinations of post-graduate students.
"On the positive side, we are already in the process of setting up virtual laboratories across the state. The work is completed in Mumbai and Pune and is in process in other districts," Dr Shingare said.
Close