FYJC admissions: Most Mumbai students prefer arts, but colleges have more seats for science, commerce
Updated on May 25, 2017 09:35 AM IST
Mumbai city news: Arts, entrepreneurship, tourism — children in Mumbai are looking beyond engineering and medicine, But colleges are not meeting the demand in terms of seats or faculty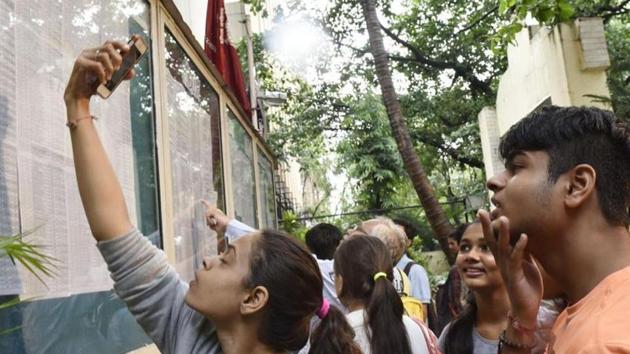 Hindustan Times |
, Mumbai
Puja Pednekar & Bhakti Makwana
When it comes to first-year junior college admissions, the numbers simply don't tell the story.
There are more science and commerce seats up for grabs in Mumbai's colleges this year — 5,600 more science seats and 3,000 more for commerce — even though their demand has been steadily dropping. There are fewer arts and humanities seats — 34,180 seats this year, lower than last year's 35,269 — even though more and more students are choosing the stream.
A problem of supply
Educators said the arts stream was not growing despite the rising demand. "For the past two to three years, more students are picking arts. High-scoring students who could easily get a science seat are taking up arts by choice," said Suhas Pednekar, principal of Ramnarain Ruia College, Matunga.
But there are few colleges that meet the demand. "Unlike science or commerce, there are few colleges known for their arts faculty. Arts seats in these colleges fill up instantly, but in others, they go empty," said Pednekar, adding it was time to improve faculty for arts courses.
Educators said the outdated syllabus and poor awareness mean the arts stream is not competing with fast-growing fields such as science and commerce. The syllabus needs to be revised and made more 'industry-oriented', said principals.
READ: Mumbai FYJC online admission process to start in 4 days: Forms to quota, all you need to know
"The curriculum for arts and sciences is lagging, compared to commerce. It needs to be revised and updated to focus on increasing employability of students," said Dinesh Panjwani, principal of RD National College, Bandra. Another reason for few arts seats is that students are relatively unaware of the opportunities it could open for them. "Commerce prepares you for a job, arts prepares you for life. If you see the larger picture, the arts stream is more helpful, but people fail to understand this," said Marie Fernandes, the principal at St Andrews College, Bandra.
Jobs in focus
The good news is students are daring to look beyond the conventional professions of engineering and medicine and were choosing subjects that were more job-oriented, experts said.
Most of the 2.92 lakh seats in the Mumbai region this year are for commerce — there are 1.61 lakh commerce seats, up from last year's 1.57 lakh. Most of the new colleges decided to introduce this stream, education officials said, as it has become popular among students.
"Today's youngsters are tilting towards enterprise. Commerce therefore has become popular," said Vidyadhar Joshi, vice-principal at Vaze Kelkar College, Mulund.
READ: Stick to the rules and you will be fine, say college principals
From this year, admissions to the minimum competency vocational courses (MCVC) stream — self-financed courses like tourism, hospitality management and marketing — has also been added to the online admissions process because of its popularity. But principals admit these courses are tough to get into because of limited seats, high cut-offs and demand.
Such courses are in demand, said Amee Vora, the vice-principal at NM College, Vile Parle, because they are specialised and train students to run businesses.
"Students taking these courses can work part time. The subjects prepare them to set up their own firms," said Vora.
NM College has 20 to 40 seats for these courses, Vora said.
The business bug
The commerce stream's popularity is here to stay, as entrepreneurship is trending among students, said experts.
A recent national survey of students aged 12 to 18 found 85% respondents from Mumbai were interested in becoming entrepreneurs — the highest in the country. This is a trend arising from students' exposure to successful start-ups, said the Tata Consultancy Services (TCS) Youth Survey, 2017.
"Students in Mumbai are exposed to a lot more ideas because the city is a business hub. In smaller towns, most people tend to work in the salaried sector," said Pradipta Bagchi, senior vice-president and head, corporate communications, TCS. "They are inspired by watching success stories of entrepreneurs such as Steve Jobs, Mark Zuckerberg, and others." Bagchi said schools too have played a big role in imbibing an entrepreneurial spirit among students.
But, more awareness is needed, said principals. "Even students who take up science are unaware about its potential — they take it only for engineering or medicine, but there is so much more," said Pednekar.
'Choose a stream you like and are good at'
Dr Harish Shetty, senior psychiatrist, on how to navigate the options:
How should students choose streams for FYJC?
Don't opt for a course only because parents or friends tell you to. Choosing a stream is one of the first and most crucial career decisions students have to take. It should not be taken lightly, or under parental or peer pressure. Base your decision on interest and aptitude. Don't choose commerce because it is 'easy', or overlook science as it might be 'too difficult'. Think about your abilities and pick a college for its faculty.
Are aptitude tests reliable? Do they reflect a person's capabilities? And how does one choose from the plethora of tests available in the market?
Opt for aptitude tests from clinical psychologists. Tests such as a fingerprint analysis have no scientific backing. Just taking the test is insufficient, students must go for counselling as it helps understand if the child's aptitude matches interests. Also, individual testing is better than group tests. Often, schools hold aptitude tests, but students might copy, which will lead to inaccurate results.
After picking a stream, if a child finds he doesn't like it or can't cope, should he switch?
In this era, it is easy to make a mistake in choosing a stream. After selecting the stream, if you feel you may have made a wrong choice, do not hesitate to switch.
Take time off, think about your interests. Contrary to popular belief, the loss of one academic year makes no difference. Parents should support the child.
How should students with disabilities select a college or a stream. Are any career options closed to them?
Parents and students should choose a college sensitive to students with differences. Inform them about your disability, look at the provisions they offer and then decide.
A list of these provisions is uploaded on the University of Mumbai and the Maharashtra state board websites. A person's disability cannot deter them from choosing any stream.
Personalise your news feed. Follow trending topics