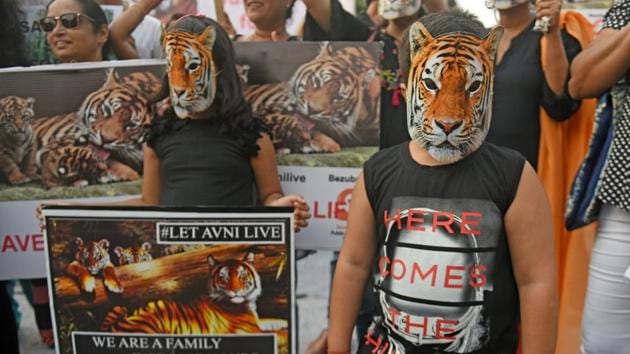 Backlash over killing of tigress in Maharashtra: Two expert panels to probe incident
While National Tiger Conservation body will visit Yavatmal, state orders own investigation
UPDATED ON NOV 10, 2018 12:41 AM IST
Seven days after tigress T-1, popularly known as Avni, was shot dead by the forest department in Yavatmal, two separate probes will look into her killing. The National Tiger Conservation Authority (NTCA) will investigate the circumstances of her death and at the state level, the Maharashtra government has ordered a probe into the incident.
The petitioner who had approached the Supreme Court and Nagpur bench of the Bombay High Court to stop T-1's killing alleged that both committees included independent members from non-governmental organisations that were in some way associated with the killing incident.
"Both reports will be nothing but biased. There was a need to have an independent special investigating team (SIT) on this. No veterinarian has been included in the committee ," said Dr. Jerryl Banait.
Under the Union environment ministry, the NTCA has formed a three-member committee, which will submit its report by November 26. The committee comprises retired forest officer OP Kaler; Hemant Kamdi, assistant inspector general for forest; and independent member Jose Louies, deputy director of the Wildlife Trust of India. NTCA will be the coordinator.
"Following several media reports about this incident, we have decided that this committee will study the last part of this operation, especially the process in which the tigress T-1 was allegedly tranquilised and eliminated," said Anup Kumar Nayak, additional director general of NTCA. "The entire team will be coming to Delhi on Monday for a briefing and subsequently proceeding to Yavatmal for the on-ground investigation."
The Maharashtra government also formed a committee to study the permissions granted to kill the tigress. Headed by principal chief conservation of forest (production & management) SH Patil, the other members are scientist Dr. Bilal Habib of the Wildlife Institute of India (WII), Dehradun and Anish Andheria, president of the Wildlife Conservation Trust and the independent member. Additional principal chief coordinator of forest Nitin Kakodkar will coordinate the committee. "Earlier it was a three-member committee, but on Friday we decided to include a scientist from WII," said Virendra Tiwari, additional principal chief conservator of forest (Mantralaya), forest department.
On November 2, six-year-old T-1, who was also the mother of two cubs, was shot dead by a team of three – a private hunter and two forest staff members – near the Borati-Warud road in Ralegaon taluka in Yavatmal. T1 is held responsible for the deaths of 13 people since June 2016, which forced the forest department to initiate a hunt for the "problem tigress". The forest department is currently trying to track the cubs.
Andheria said the state committee would analyse the spot punchnama, post mortems, standard operating procedure, and series of events that took place on November 2. "This committee will see whether all processes were followed as per guidelines for an issue such as this. It will question relevant authorities irrespective of fair and foul play. Additionally, recommendations will be made so that an unfortunate event such as this is not repeated," he said.
Close