Central Railway installs nets to minimise trash dumping on Mumbai train tracks
The nets were installed a week ago as a month-long experiment to find whether it can work as a deterrent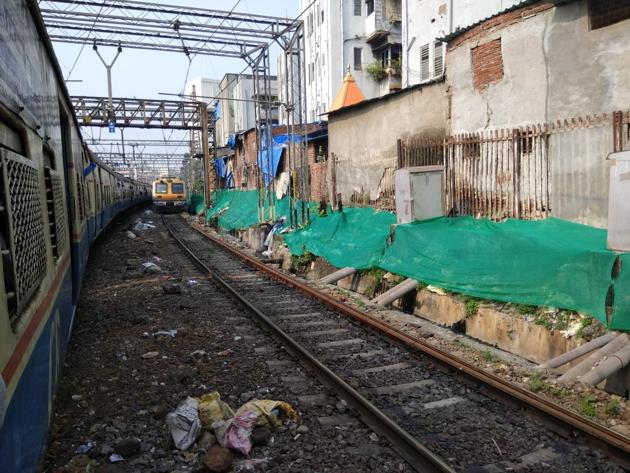 Published on Oct 03, 2018 11:47 PM IST
The Central Railway (CR) has installed nets along a 1.5km stretch of filth-covered railways tracks between Masjid Bunder and Chhatrapati Shivaji Maharaj Terminus (CSMT) to stop dumping of trash.
The nets were installed a week ago as a month-long experiment to find whether it can work as a deterrent.
"There are instances of trash thrown along the railway tracks from buildings and slums over the compound wall constructed along the railway line. There have also been security issues where people have tried to dismantle pipelines running along the railway line," said Sunil Udasi, chief public relations officer, CR. "The nets are placed strategically where trash will be collected daily and picked up by a 'muck-special' train."
Udasi said the green nets, the brainchild of divisional railway manager SK Jain, made the stretch between the two stations more aesthetically pleasing to look at. Moreover, he said the garbage can now be easily identified and disposed of rather than it getting piled up in undulated pockets.
Since November last year, CR has removed nearly 150,000 cubic metres (m3) of trash — equivalent to 7,500 fully-filled BMC dumper trucks — from railway tracks between CSMT and Sandhurst Road station. "If it is successful, the project will be implemented all along the central line," said Udasi. "It will be implemented across 26 slums identified by CR along its line."
Udasi also said CR had requested the Brihanmumbai Municipal Corporation (BMC) to install garbage bins for the slum dwellers between CSMT and Masjid Bunder but trash was still being dumped on the tracks.
HT has reported about how citizens' groups have been campaigning to clean Mumbai's railway tracks. One group, Environment Life, organised a twitter campaign in May 2017 to get the railway administration to respond to the problem. The group identified 10 stretches that have the most garbage. In response, the CR started cleaning the tracks in December.
"Unique efforts by CR show that they are following the centre's vision of Swacch Bharat, and trying to reduce the quantum of domestic waste generated by slums and households," said Dharmesh Barai of Environment Life. "However, officers need to focus on the drainage issue where domestic waste continues to free flow from homes and land up along the tracks. This cannot be done without the municipal corporation's help."
Close Story