Mumbai selfie death: 21-yr-old's bid to take pic with mother, sister goes wrong
The woman, BE student from Tamil Nadu, wanted to take a selfie with her mother and sister on a rocky patch with the sea in the background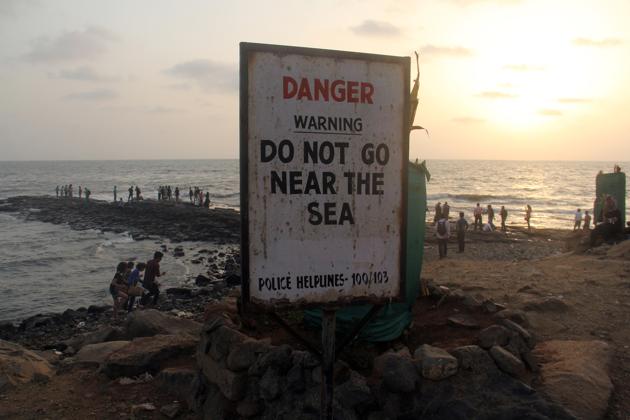 Updated on May 15, 2017 09:54 AM IST
A 21-year-old Bachelor of Engineering student from Tamil Nadu slipped and drowned at Bandra Bandstand while taking a selfie with her sister and mother.
The incident took place around 3.30pm on Monday near Bandra Fort, the police said. Two hours later, her body was located near Bandra Worli sea link with the help of local fishermen and fire brigade officials.
After giving her final exams, Meenakshi Priya Rajesh had come to the city on April 30 along with her older sister, father and mother, the police said. Her family was staying in a hotel at Saki Naka in Andheri.
The family had hired a cab for the whole day, the police said.
An officer from the Bandra police station, requesting anonymity, said, "Meenakshi and her family visited several places and ended up at Bandra fort. Meenakshi said she wanted to take a selfie with her mother and sister at the edge of a rocky patch with the sea in the background."
Read more: Teen hit by train while taking selfie on platform in Mumbai
A sign board has been put up at the spot by the Mumbai police, asking tourists not to take selfies after last year's incident in which two people had drowned, including a political leader, who jumped in to save one of the victims.
"Meenakshi's father even warned her, but she ignored him," added an officer.
A wave hit her and she lost her balance on the rocks and because it was high tide, she drifted away further into the sea, the police said.
"They could only hear her scream for help, calling her father," said an officer.
The police were immediately informed about the incident by the locals, following which fire brigade officials and an emergency ambulance were called to the spot.
"We located the body at 6pm on Monday and after we got her to the ambulance, the doctor declared her dead after which she was then taken to Bhabha Hospital," said an officer.
The Bandra police have registered an Accidental Death Report.
Read more: Selfie gone wrong: Mumbai teen gets the shock of his life
Close Story
Personalise your news feed. Follow trending topics