Devendra Fadnavis is hemmed in on reservation issue
The ruling dispensation is caught in a cleft stick because it foolishly promised reservations not just to Marathas but also to Dhangars (shepherds) in its manifesto in 2014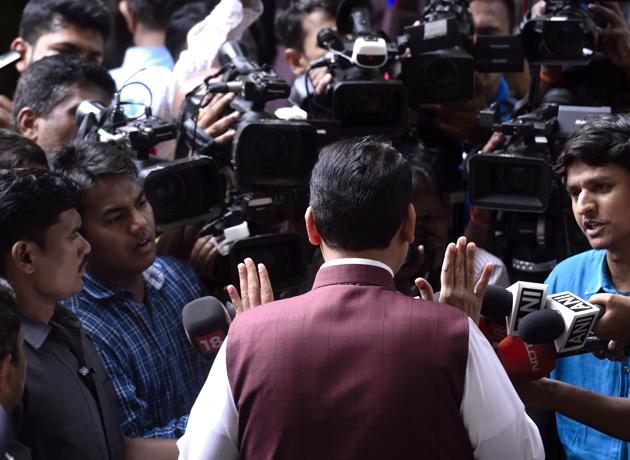 Updated on Aug 01, 2018 10:21 PM IST
In the 1990s, during my many conversations with him, I learnt a few enduring political lessons from Bal Thackeray. The Shiv Sena supremo, while wishing for his own government in the state, was always inclined to deal with a Congress government at the Centre. When I asked him if he would not find it difficult to deal with a hostile Central government he smiled indulgently at my political naiveté and said, "On the other hand, it would be far easier."
While he didn't quite say it in so many words, I gathered it was easier to get concessions out of an ideologically opposite party. But more than that, it was easier to play cloak-and-dagger games with such a political arrangement. Unreasonable demands could be made of the other party ruling the government and when they were inevitably turned down, one could go to town about injustice to the people. Over the years, I realised Thackeray and the Shiv Sena had done just that, though it was never in power, except for a brief spell between 1995 and 1999. But he knew how to get the concessions, nevertheless.
So while it is easier with your own party ruling both the Centre and the state, I now recall Thackeray's wisdom as chief minister Devendra Fadnavis struggles to find a way out of the Maratha reservation crisis. He tried to buy time last year by setting up a committee to study the issue but despite several reminders from the Bombay high court, there has been no report. I wonder if there will ever be. For even if the committee comes up with recommendations, only an act of the Parliament can provide for those reservations.
Constitutionally, there can be only 52% reservations and there is no deficit anywhere in the country. Dalit and other backward class (OBC) groups will go up in flames if an attempt is made to slice off their quotas to accommodate Marathas. Moreover, accommodating one group will open up a Pandora's Box as Marathas are not alone in seeking reservations.
If the Centre were to concede this demand, they would have to similarly accommodate Patidars in Gujarat, Gujjars in Rajasthan and Jats in Haryana, all of who have been far more violent than the Marathas, who led 58 morchas across Maharashtra without disturbing peace or law and order.
But the ruling dispensation is caught in a cleft stick because it foolishly promised reservations not just to Marathas but also to Dhangars (shepherds) in its manifesto in 2014. Already, Fadnavis was embarrassed by them last year when at a public event they played the Bollywood hit, 'Kya hua tera vaada..." to remind him of his party's empty promise. Marathas are not being as benevolent any longer and now they are being backed by all other political parties in the state, including the Shiv Sena.
The Congress-Nationalist Congress Party (NCP) had been rather clever in 2014 by setting up an unconstitutional committee and giving them a 16% reservation, which was predictably struck down by the courts at the first instance. The comfort of that kind of political chicanery is no longer available to the BJP because Marathas have cottoned on and will not be fobbed off by crumbs or false promises.
So what does the chief minister do? Certainly not accuse Marathas of a conspiracy to release snakes into the Vithoba temple at Pandharpur where thousands of pilgrims were gathered for their venerations of Lord Vishnu on Ashadhi Ekadashi. That has fired tempers of Marathas who are outraged that anyone could accuse them of such sinister motives, for they are worshippers too and would not cause other worshippers any harm.
But that fantastic allegation shows that Fadnavis and the government are soon running out of options and discrediting the Marathas seems the only means of shaking them off. Faced with threats by Marathas to stop his travels by carpeting his route with rocks and stones and also to undertake some guerrilla warfare — like jumping out of bushes to attack his convoy and disappear before being caught — Fadnavis must definitely be feeling hemmed in.
But solutions must be sought. Already two BJP MLAs from Nashik, Seema Hiray and Rahul Aher, have resigned, though cleverly, they have submitted their papers to Maratha Kranti Morcha (MKM) leaders and not the Speaker. With 146 Maratha MLAs from all parties, a cascading effect could render the term of the government short-lived.
Close Story