Eman Ahmed prepares to leave, 3 obese children come to Mumbai hospital for weight loss treatment
Seven-year-old Yogita Nandwana weighs 45kg, five-year-old Anisha 68kg, and their three-year-old brother Harsh weights 25kg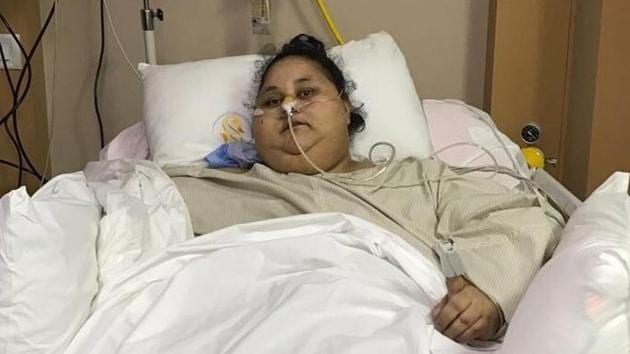 Updated on May 04, 2017 04:59 PM IST
Hindustan Times |
, Mumbai
Sadaguru Pandit
As Egyptian woman Eman Ahmed, who was once the world's heaviest, left Mumbai today, three severely obese children have come to the city from Gujarat for obesity treatment.
The doctors at Saifee Hospital are expecting four more children – two from Maharashtra and two from Gujarat – to join the trio.
"They came to the city this morning, we are taking them to Saifee Hospital now," said Dilip Nandwana, their uncle.
Seven-year-old Yogita Nandwana weighs 45kg, five-year-old Anisha 68kg, and their three-year-old brother Harsh weights 25kg. Together they eat enough food in a week to feed two families of four for a month. Their parents are poor, so the rest of the village pitches in to feed them.
Dr Lakdawala told HT that as in Eman's case, a gene mutation was responsible for the children's severe obesity.
"Currently, there is no specific treatment for this condition. However, a drug called MC4R Agonist, only available through a pharmaceutical company in the US, could help these seven children," Dr Lakdawala said.
The children are most likely to be benefitted by the equipment and room prepared for Eman's treatment.
"As we have treated Eman successfully and brought her weight down to 170kg from over 500kg, we are looking forward to help the children. No bariatric procedures will be performed on them," said Dr Lakdawala.
Close Story