Eman Ahmed to say 'goodbye Mumbai' today, won't undergo weight-loss surgery in Abu Dhabi
Dr Mufazzal Lakdawala from Saifee Hospital confirmed that Eman will be moved out on Thursday, from where she will be taken to Abu Dhabi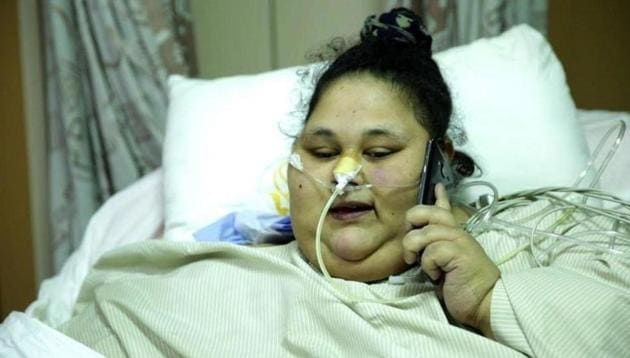 Updated on May 04, 2017 10:41 AM IST
Hindustan Times |
, Mumbai
Sadaguru Pandit
Egyptian national Eman Ahmed, who was considered to be the heaviest woman in the world, will leave the city on a 6.30pm flight today.
A team of doctors handed over a 29-page detailed medical summary of Eman, discussing every aspect of her medical condition to officials from VPS Hospital, Burjeel, where she will be shifted, on Wednesday.
"We will see her off with similar enthusiasm and well wishes at the gate of Saifee Hospital. Her entire logistical management of transport will be taken care of by VPS Healthcare," said Huzaifa Shehabi, COO of Saifee Hospital.
In a final meeting with doctors, VPS officials were informed about Eman's current condition, neurological and orthopedic complications.
Dr Muffazal Lakdawala, bariatric surgeon and Eman's treating doctor said, "We have agreed on the point that no weight-loss surgeries are to be performed on her in the near future. We informed them about the bed sores and opinion of Dr Satish Modi, orthopaedic surgeon that it's difficult for her to stand, let along walk, owing to severe muscle weakness.
"Doctors have also demanded they be informed about any further developments owing to the emotional attachment they have developed with Eman," he said.
Lakdawala said it will be difficult to say goodbye. "She wasn't smiling at me for the past fourfive days after this controversy with her sister started. But on Wednesday, as I was just about to leave her bedside, she held my hand with tears in her eyes. We will miss her, she was like a younger sister to all of us," Lakdawala said.
Modi opined Eman will need multiple corrective surgeries to straighten her hips and knees.
Poor bone structure and 25 years in a bed have made her bones weak, he said. "But again, she has defied medical opinions by her massive weight loss once, we pray she creates more magic in Abu Dhabi and stands on her feet," Lakdawala said.
VPS healthcare is also flying Eman's mother from her hometown in Alexandria to Abu Dhabi to stay with her. "It's a great decision. All she needs is the love and support of her family," said Lakdawala.
Doctors said Shaimaa Selim, Eman's sister, is yet to sign on the consent documents related to fat and liver samples sent to Melbourne University for testing. Doctors gearing up to present Eman's case in the form of a study for reputed medical journals said it's the only case in medical history that was able to unite global experts from the fields of bariatric surgery, genetics and endocrinology to save one life.
"At least 20 experts were on board, discussing every single medication and diet plan for Eman. Her treatment was a detailed management process, not just a surgery," said Shehabi.
"Eman is stable, in good health and fit to fly," said an email sent by VPS Burjeel Hospital, where Eman will be treated, to the COO of Saifee Hospital, Huzefa Shehabi. Eman is supposed to be transferred at 10.30am on Thursday morning.
Speaking to HT, Sanet Meyer, director, Medevac, VPS Healthcare, said she will head the team of nine specialists, including an intensivist, paramedics and nurses, to accompany Eman on her six-hour long journey in an air ambulance to Abu Dhabi. A special hydraulic stretcher has been imported from Italy to transport Eman. "We have a number of specialised rooms at Burjeel medical facility where Eman will be treated for neurological and physiological rehabilitation," said Meyer. Eman will remain on a high-protein liquid diet en route and will be weighed again at Burjeel Hospital before treatment.
Close Story