Ephedrine haul: Kingpin's driver held
Published on Jan 26, 2017 12:04 AM IST
Kathiya had been hiding at Madhya Pradesh, Punjab, Delhi and other states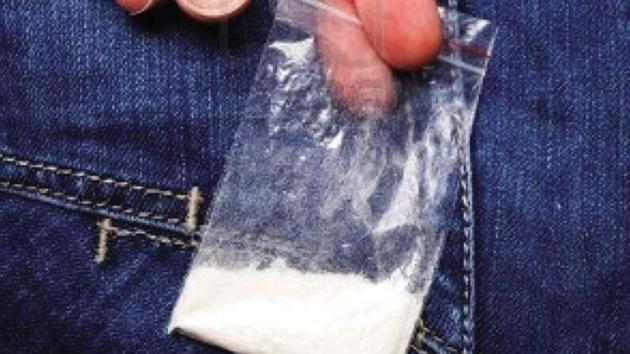 Weeks after arresting the kingpin of the ephedrine racket, Kishoresingh Rathod, the Gujarat police arrested his driver, Bharat Kathiya,38, on Tuesday. Kathiya had arranged for the drug to be transported from Solapur to Gujarat to Kenya, said H Shukla, deputy commissioner of police, anti-terrorism squad, Gujarat.
Kathiya had fled with Rathod after the Thane police raided Avon Pharma Life Sciences Pvt Ltd at Solapur in April last year. Since then, he had been hiding at Madhya Pradesh, Punjab, Delhi and other states. He would come back to Gujarat at regular intervals to take stock of the situation, said the police.
"Kathiya was hiding in a remote area of Surendranagar district, which is almost 100 km from Ahmedabad. He is Rathod's personal driver and had arranged the transport of 1,364kg of ephedrine, worth Rs270 crore. Before he could send it to Kenya from Gujarat, the consignment was seized and many were arrested," said Shukla.
Police said Kathiya and Rathod stayed together for several weeks, but separated to evade arrest. They disguised themselves to avoid being identified.
"They choose a remote area, which did not have mobile network. They did this so their social networking accounts could not be traced. They tried contacting their family and friends using different mobile numbers," said Shukla.
Kathiya was produced at a Gujarat sessions court and remanded in police custody till January 27.
"Kathiya was also in touch with the director of Avon Pharma Life Sciences Pvt Ltd. They planned to transport more ephedrine to Kenya via water routes after the 1,364-kg consignment of the drug was sent," he said.
"We are gathering technical evidence. We will file another supplement in a few days," said Bharat Shelkhe, assistant commissioner of police, Thane.
"We have submitted documents to the Gujarat court and will take custody of Rathod once the Gujarat police finish their investigation. We will bring him to Thane. We have gathered evidence against him, including phone call records, chats and emails with international drug baron Vicky Goswami. We have arrested 12 men while eight are still wanted. Two are from Gujarat, five from Kenya and one from Nigeria. We are on the lookout for them," said Shelkhe.
Read
Ephedrine haul: Thane cops to file fourth supplement to charge sheet
Mumbai ephedrine haul accused earned more than Rs50L a month: Cops