Games, interactive kiosks: Here's what you should check out at Mumbai's 'India and the World' exhibit
Nov 12, 2017 12:32 AM IST
On display are artefacts from the British Museum in London, the National Museum in New Delhi and 21 other museums and private collections across India
A granite Nandi bull from 800-900 AD marks the entrance of the Chhatrapati Shivaji Maharaj museum's central hall. Instead of a statue of the Hindu deity Shiva, it faces the Townley Discobolus, an iconic ancient Greek statue of a discus thrower in mid-throw, and a prized possession of the British Museum.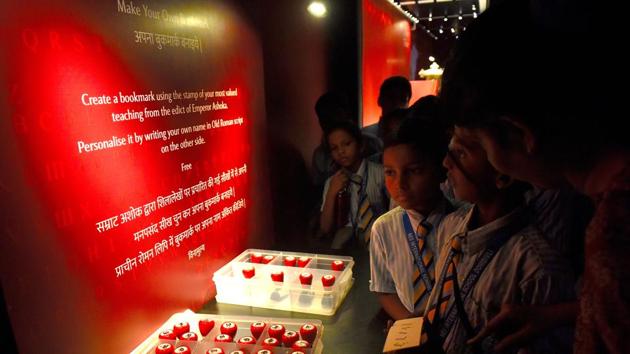 It's an effective way of introducing visitors to the massive, first-of-its-kind exhibition, India and the World, which seeks to tell the story of civilisation through 210 objects from around the world, by correlating them in clusters.
On display, from November 11 through February 18, are artefacts from the British Museum in London, the National Museum in New Delhi and 21 other museums and private collections across India.
Already, on Day 1, the crowds were pouring in.
"We recently studied about the hieroglyphics of Egypt, which was very interesting, and then today we saw the bull inscription found in Haryana, which tells us how our ancestors wrote and spoke, which is also very interesting," says Elias Varghese, 9.
He was part of a group of 11 children that came all the way from NES International School in Dombivli for the first day of the show.
"They were just learning about the history of India, so when we heard about this exhibition, we thought they could get an idea of the history of the world in relation to India instead," says Sonal Nichat, 39, their class teacher.
Behind her, the kids argued over which artefacts had and had not featured in their history book.
"It's heartening to see that most of the visitors came specifically for this event. For this to happen on day one is a big deal for us," says Kamini Sawhney, chief project coordinator for India and the World.
LISTEN AND LEARN
For those heading there solo, be sure to hop over to the reception and get your free audio guide. It's 20 stops give you a quick tour of the exhibition. Along the way, little screens in each gallery offer short videos featuring historians and curators talking about key objects.
"I'm glad I'm in town just in time to catch the exhibition," says Sailesh Jaswa, 62, a businessman from the UK. "I was hoping to see more miniatures because the British Museum does have an exhaustive collection of Mughal paintings from the Akbarnama and I'd have loved to see more at an exhibition like this of experimenting with the confluence of cultures."
The layout is innovative. Little interactive kioks, for instance, offer trivia and games to make the exhibits engaging. You can explore the barter system of the Harappan civilisation, for instance, by stacking terracotta beads or bags of grain against replicas of the weights used by ancient Harappan and Egyptian traders of the day.
Visitors can also get replicas of some of the exhibits — a beautifully hand-beaten bronze hair pin is worth mentioning here — and have excerpts from Asoka's edict stamped on a bookmark in Brahmi.
"The idea of having these kiosks was to break the monotony of just viewing one object after another," says Divya Pawathinal, senior curatorial assistant on the project. "This seems to have worked well, and not just for the kids; I've seen a lot of grown-ups walking away proudly with their own 'relic' of the Ashoka era."
TECH THAT
Another crowd-puller was Future Relics, an interactive installation created in association with the Google Arts & Culture lab. Using the Google handwriting input tool, visitors name an object that they would like archaeologists 1,000 years from now to remember our present day culture by. These words then appear on a digital vase with each new, unique word birthing a new vase.
As vases appear and grow, the live visualisation creates a growing landscape of vases.
Freya Murray, program manager and creative lead for Google Cultural Institute Lab, says, "We wanted to build new bridges between technology and culture whilst giving audiences a new perspective of archeology in the digital age. It's also an opportunity to become a part of a time capsule that will capture, as a growing landscape of pots, the most popular objects reflecting our lives today."
As an IT engineer, Rita Fernandes, 24, was particularly interested in this marriage of history and archiving. "I don't frequent museums, but I will go home from this one thinking about what in today's world can be a possible relic tomorrow, because this has really got me thinking," she says.