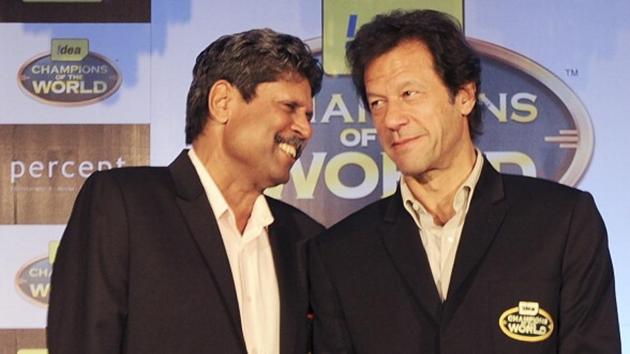 Imran Khan's friendships which crossed borders and boundaries
There's no surprise that he invited his contemporaries from on the cricket field but his picking Bollwyood actor Aamir Khan is intriguing
Hindustan Times | By Ayaz Memon
UPDATED ON AUG 04, 2018 07:43 AM IST
Pakistan's Prime Minister-designate Imran Khan's list of invitees from India so far is interesting: Sunil Gavaskar, Kapil Dev, Navjot Sidhu and Aamir Khan. Predictable some would argue since cricket and cinema are abiding passions in the sub-continent, but no less fascinating for that.
Whatever the decrees of mullahs in Pakistan, Bollywood reigns across the border: intermittently in cinema halls when there is no official ban, but unfettered in homes, whether watching or discussing Indian films and stars.
Aamir's choice intrigues though. He has a phenomenal standing as an actor and filmmaker and is an avid cricket fan. But that he and Imran were even known to each other beyond the usual celeb pleasantries was unknown. Aamir has a story to tell!
Sidhu is a surprise choice too (for me), though he's a fellow cricketer. The two played only one Test series against each other (1989), and by that time Imran, 10 years older, was nearing the end of his career. There didn't seem to be any strong nexus then.
However, Imran and Navjot got along like a house on fire when doing commentary during the 2004 series in Pakistan. Navjot had Imran in splits throughout with his Sidhuisms and devil-may-care jolliness on air.
This was in complete contrast to Imran's intense analyses. Unlike poles attract as we know, so was that the glue? Or was politics (Imran had taken the plunge in 1996, Sidhu joined the BJP in 2004) that was the meeting ground?
There hardly need be any speculation why Imran would invite Kapil and Gavaskar though. They were contemporaries in cricket, often carrying the hopes of their respective nations on their shoulders, especially when pitted against each other. And their rivalries were intense.
Former Pakistan captain Rameez Raja, a wonderful raconteur, related an anecdote from Pakistan's 1987 tour of India, highlighting the intensity of the Imran-versus-Kapil rivalry during an interaction I had with him at the Ceat Cricket Awards in 2014.
Rameez scored a century in the third Test at Jaipur. When he was dismissed, instead of being congratulated he was severely castigated by his captain for playing a loose shot. "Imran couldn't accept that I had given away a wicket to Kapil Dev," said Rameez.
For me, however, Imran against Gavaskar was the more riveting contest. Bat versus ball is at the core of cricket and infinitely more absorbing as it pits the skill, tactics, mental tenacity and personality of one against the other.
And nothing fires the imagination more than the best fast bowlers versus the best batsmen. True, spinners are not a whit behind pacemen in value to a team, but their battle against batsmen is more nuanced: that waged by fast bowlers is raw and altogether more rousing.
Bradman versus Jardine, Lindwall, and Miller versus Hutton, Tendulkar versus McGrath and Akram, and now Kohli versus Anderson is part of the folklore of cricket. Gavaskar versus Imran was in this category.
Acknowledgment of Gavaskar's technical virtuosity – and typical Mumbai `khadoosness' – came grudgingly from Imran. But as Rameez recalls in another anecdote from the 1987 series, the barrier had once been broken, wholesomely.
He was fielding at short-leg. Imran was bowling a fiery spell to Gavaskar, making him weave and duck to bouncers. In the middle of an over, Imran turned to Rameez and said admonishingly: "Dekho aur seekho, opening batting kaise karte!"
The last Test of that series was Gavaskar's swansong. On a dustbowl, with the ball turning square, squirting through along the ground or exploding off the pitch, he scored a valiant 96, but India fell agonizingly 16 runs short of winning.
"It's the greatest innings I've seen," Imran was to say after the match. He's not had reason to change his mind since. For him, Gavaskar remains the greatest opener he's bowled to, his biggest adversary from India, and now his friend.
How these bitter rivalries evolved into deep mutual admiration and respect over the years provides a fascinating dimension to Imran's relationship with Kapil and Gavaskar.
This is what makes sports distinct from the selfishness which usually defines politics, business, etc., and has now found expression in the invitation to Imran's oath-taking.
Close