Lunar marvel: Visit a giant replica of the moon today at Gateway of India in Mumbai
Feb 04, 2018 01:13 AM IST
Filled with helium and internally lit, the inflatable sculpture contains detailed imagery provided by NASA.
If you visit Gateway of India today, it's not just the arched monument that you'll marvel at. You will also come face-to-face with a giant replica of the moon, complete with craters, suspended mid-air in front of the landmark.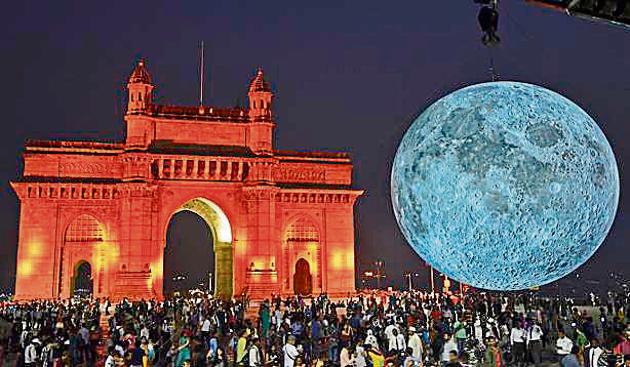 "Is this the real moon?" three-year-old Kenisha Makhija asked her mother on Saturday. "No, but it looks really natural, doesn't it," her mother Deepa, 32, a financial manager, responded.
The mother-daughter duo are among hundreds who were drawn to the art installation, titled Museum of the Moon. This 23-ft-wide spherical sculpture created by British artist Luke Jerram has been brought to India for the first time by the British Council to mark the end of the UK-India year of culture; it comes to Mumbai after its pop-up in Bengaluru this week. It will be on display at Gateway till Sunday night, when it will be shipped off to Delhi and then Kolkata.
Filled with helium and internally lit, the inflatable sculpture contains detailed imagery provided by NASA. It's a scale model where each centimetre represents 5 sq km of the moon's surface.
"I took six months to create the moon," says Jerram, a multidisciplinary artist who lives in Bristol. "I was inspired after learning that the Bristol Channel has the second highest tides in the world. And it's the moon that makes them occur." The installation isn't just a model; it's also a metaphor. "The moon also acts as a cultural mirror. It has inspired a range of myths around the world. It has been interpreted as deity, planet, timekeeper and calendar. Different cultures have their own historical, cultural, scientific and religious relationships to the moon," Jerram says.
The artwork is meant to encourage viewers to contemplate cultural similarities and differences.
The installation is also a way for urban dwellers to reconnect with the moon.
Since its launch in 2016, the work has travelled to France, Italy, the US, Hong Kong and Dubai etc. It's been in indoor and outdoor spaces.
"In India, we wanted the artwork display to coincide with the Super Blue Blood Moon occurrence," says Alan Gemmell OBE, India director at British Council.
"Exciting news! Hindustan Times is now on WhatsApp Channels
Subscribe today by clicking the link and stay updated with the latest news!"
Click here!