Made in India trains to run on Mumbai's Metro-3 route
Updated on May 17, 2017 10:04 AM IST
75% of trains that will run on the line will be made locally; decision comes after months of negotiations between funding agency JICA and the MMRC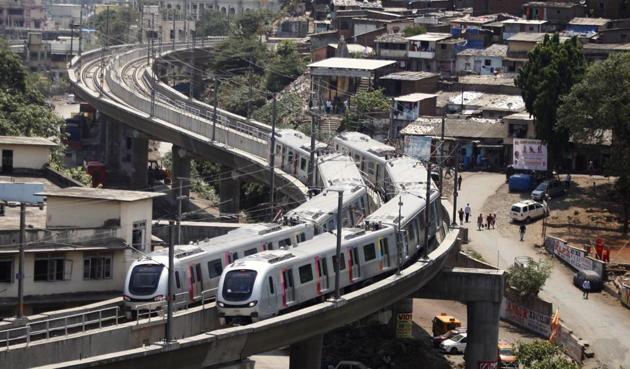 Seventy-five percent of trains that will run on the Colaba-Bandra-Seepz Metro route will be made in India.
In a boost to the Centre's 'Make in India' programme, after months of negotiations, the Japan International Cooperation Agency (JICA) that will fund 57% of the project, has agreed to allow the Mumbai Metro Rail Corporation (MMRC) to buy trains manufactured in India.
Senior MMRC officials said JICA initially had concerns about the Centre's push to indigenise production, as it had signed the loan agreement much before the Make in India programme was introduced.
"JICA wanted us to follow a competitive international bidding process, as it was not mandatory to procure rakes that are manufactured in India as per the loan agreement," said an official. The bidding process to buy the trains has been stuck for 16 months because there was no clarity on the issue, officials said.
READ: Mumbai's metro will take you to the airport too, like in Delhi
With the decision now in, the MMRC will restart its bidding process. "JICA has agreed with MMRC's proposal of indigenisation rolling stock (trains that will ply on the line) and agreed a maximum of 48 of the 210 cars can be manufactured in the offshore factory outside India. The remaining cars shall be manufactured in India, which may include manufacturing by sub-contractors of the bidder," said a spokesperson for MMRC.
Currently, only three companies manufacture rakes in India—the Indian subsidiaries of Bombardier and Alstom, and Indian PSU BEML . Now that it has become mandatory to procure 75% of the rakes from India, some said it could make it unfair for other bidders who will have to invest in setting up a facility just to manufacture trains for this project.
A senior MMRC official, however, disagreed. "It would have been unfair if there was a condition in the bid document that only companies with plants in India are eligible to participate. Bidders are free to give sub-contracts."
MMRC, a joint venture of the Government of India and the Government of Maharashtra on 50:50 sharing basis, intends to start operations of the underground corridor by December 2020. It requires 248 coaches (31 trains of eight coaches) to commission the corridor.
Personalise your news feed. Follow trending topics