Maharashtra: Khadse quits BJP, blaming Devendra Fadnavis for the decision; to join NCP
Several other BJP MLAs and leaders, who are Khadse's supporters, want to join the NCP. However, a decision on their induction is yet to be taken, said state NCP chief Jayant Patil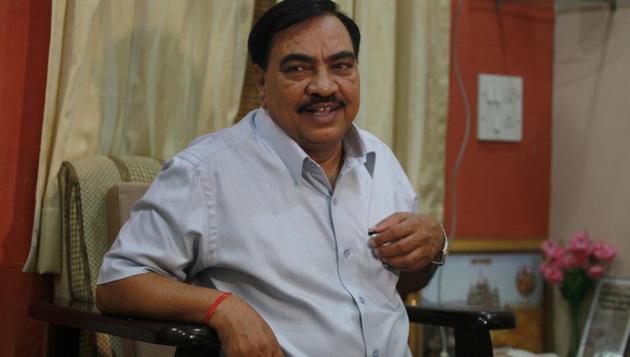 Updated on Oct 21, 2020 05:01 PM IST
Hindustan Times, Mumbai |
Surendra P Gangan and Faisal Malik
In a major development, senior Bharatiya Janata Party leader Eknath Khadse has decided to leave the party. He will be joining Nationalist Congress Party (NCP) on Friday. State NCP chief Jayant Patil made the announcement Wednesday.
Patil said that Khadse had informed him "sometime back" that he had decided to leave the BJP. "Senior BJP leader Eknath Khadse, who has played a significant role in the growth of the BJP in Maharashtra, has decided to leave his party. He has informed me about his decision sometime back. This has paved the way for his induction in the NCP. Khadse will formally join the party on Friday afternoon," Patil said.
After resigning on Wednesday, Khadse held former chief minister and leader of Opposition Devendra Fadnavis for his decision of quitting party, saying he was forced to take the drastic decision. The leader has also said that his daughter-in-law and party MP Raksha Khadse will continue working for the BJP and there was no other party MLA or MP joining him.
Also Read: Maharashtra government, Opposition at loggerheads over financial help for flood-affected farmers
According to Khadse's close aides, he is expected to get an MLC seat via the governor's quota. The Maharashtra Vikas Aghadi (MVA) government, led by Shiv Sena, NCP and Congress, is yet to take a decision on recommending names to Governor Bhagat Singh Koshyari for the appointment of 12 members of the legislative council (MLCs).
Khadse, who had resigned as revenue minister and from other 11 departments in June 2016 after he faced corruption charges, resigned from the BJP after working with the party for over four decades. He represented Muktainagar constituency in Jalgaon district in the legislative assembly several times.
Khadse said in Jalgaon that he was not upset with any other party leader except Fadnavis. "I have no grievances against any other leader from national or state leadership. I am upset with former chief minister Devendra Fadnavis, who made the police fabricate false cases against me. One case of outraging the modesty of a woman was registered against me on the orders from Fadnavis who was then CM and home minister. Similarly, corruption cases in Bhosri land deal and cases by anti-corruption bureau were registered against me, though nothing came out of them. I urged my party leadership and Fadnavis on various platforms to give me reasons for the punishment, but I never got a reply," he said.
He was denied an election ticket in the state assembly elections held last year.
Khadse said that he even tried to raise the issue with the central leadership and told them about the deliberate attempt to defame him (by Devendra Fadnavis), but no heed was paid. "I then got the message that I will not get justice here. I even submitted proof of the conspiracy by party leadership to defeat Rohini Khadse, my daughter, in the assembly elections last year. No action was taken," he said.
Khadse said that his daughter-in-law and Raver MP Raksha Khadse will continue to be with the party. "Raksha is free to take her decision. She has told me that she will not quit the party. There are many such examples of family members being members of different political parties, be it Jyotiraditya Scindia or Radhakrishna Vikhe-Patil," he said.
Khadse also alleged that 60-70% of BJP leaders in the state have faced corruption charges. "There are at least 60% leaders in the party who have faced corruption charges. Some of them were given ministership, posts of leader of Opposition, but action was taken only against me. Except for the allegations of corruption levelled against me when BJP was in power, I never faced such charges before in my political career spanning 40 years," he said.
The state BJP unit has confirmed the development. Party spokesperson Keshav Upadhye said that the state BJP chief Chandrakant Patil has received his resignation. "We tried to sort out the problems through a dialogue with him. It didn't work out. We wish him luck. Even a small party worker leaving BJP is a loss for the party," Upadhye said.
Chandrakant Patil said that Khadse's allegations against Fadnavis were baseless. "Devendraji had already clarified the action taken by his government in each of the cases against Khadse. What Khadse has been claiming now is his version and should not be taken at its face value," he said.
He added that the decision was unfortunate, but there had been no need for Khadse to resign. He said that the party would have resolved the grievances the leader had.
Close Story
Personalise your news feed. Follow trending topics