Maharashtra plastic ban fallout: Closure of manufacturing units, loss of jobs
A month after the ban, the BMC is still dragging its feet over setting up stalls to sell environment-friendly bags in markets as promised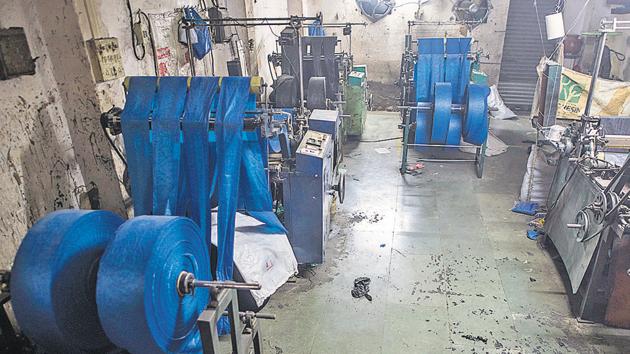 Published on Apr 22, 2018 12:38 AM IST
Hindustan Times |
, Mumbai
Geetanjali Gurlhosur and Khushboo Jain
On March 23, the day when the Maharashtra government issued a notification to ban plastic items, a thousand plastic manufacturing units across Maharashtra, claimed manufacturers, downed their shutters. In addition, the state government's ban on plastic items abruptly rendered lakhs of industry workers without a source of livelihood.
According to the All India Plastics Manufacturers' Association (AIPMA), more than 4 lakh workers, male and female, were employed by about 2,150 manufacturing units in the state.
After the plastic ban notification last month, four manufacturing units in Mulund were shut down, leaving almost 500 employees jobless.
While many workers who had migrated from states such as Uttar Pradesh returned to their native places, others have taken up odd jobs elsewhere. The rest are still unemployed.
Ramesh Saroj, 35, who worked in one of the manufacturing units at Ramgopal Industrial Estate in Mulund, said, "I used to load and unload goods for a monthly salary of Rs9,000 to Rs10,000. Now, I have no source of income to provide for my family of four." Priya Waksavre, 25, one of the 50 women who had worked in Mulund, now works for a pharmaceutical company. "I earn half of what I used to. It was very difficult to find another job," she said.
The ban has equally affected owners and traders. The data from AIPMA revealed that 10% of the total plastic goods had been banned, which means that products worth Rs5,000 crore will be wiped from the market.
Some factory owners said they were moving their units to Gujarat — an onerous task, they noted.
Pramod Pareek, who had employed 1,213 workers in Vapi, said, "I could not sell back the raw material. The final product has been lying in my godown, and traders have not paid us for a month. Despite this, I had to give my employees their monthly allowance. In a month, I have lost Rs2lakh-Rs3lakh."
Jagannath Kamath, president of the Plastic Manufacturers Social Welfare Association (PMSWA), said the state should have at least given enough time to manufacturers to repay loans; workers to find other jobs; and citizens to switch to alternatives.
Teething trouble over alternatives
The Brihanmumbai Municipal Corporation (BMC) plans to enable women's self-help groups (SHG) to produce alternatives to the banned plastic products. It has registered 48 SHGs to produce bags made of cloth, paper and other bio-degradable items.
The switch faces challenges, if not insurmountable. SHGs, set up by NGOs and through corporate social responsibility (CSR) funds, need financial and marketing aid from the government.
A month after the ban, the BMC is still dragging its feet over setting up stalls to sell environment-friendly bags in markets as promised. Surekha Bandiwadekar, head of a SHG, Shivshakti Mahila Bachat Ghat in Dadar, said, "We have sold only 3,000 cloth bags in four months. People are unaware and unwilling to buy expensive bags. We need a specific place to sell our products. Making cloth bags is not a profitable business."
Cloth bags cost between Rs10 and Rs30 apiece. Rushali Zagade of Stri Shakti Mahila Samaj Vikas Sanstha, another SHG, said alternatives needed to be attractive and affordable. "SHGs need financial support from the government for production, employee training as well as spreading awareness."
According to assistant municipal commissioner (planning) Sangita Hasnale, the BMC will conduct awareness drives including a Rath Yatra in May. "Self-help groups will get stalls in all markets soon and will also get help with publicity. We are yet to get sanction on subsidised loans for 500 SHGs," she said.
Topics
Close Story