The biggest reason why women stop working, even looking for a job—this is what being in the labour force entails – is because they have to be home makers. As far as men are concerned, this is hardly a constraint.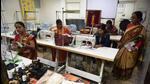 The survey was conducted by covering a total of 4,399 elder respondents and 2,200 young adult caregivers across 22 Indian cities.

Written by Sharangee Dutta | Edited by Sohini Goswami
, New Delhi
An HT analysis of unit level data from the National Family and Health Survey (NFHS) shows that the economic pain in labour markets did not decrease enough with the removal of lockdown restrictions.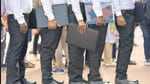 In conversation with I AM ABLE and JinShiksha - on how they employ those with special needs, educate them and make them future-ready.

Punjab Chief Minister Bhagwant Mann on Thursday launched a recruitment drive to fill 26,454 posts in various departments, the day his government marked 50 days in office.