Malavika's Mumbaistan: Designed by…?
Updated on Nov 29, 2018 11:15 PM IST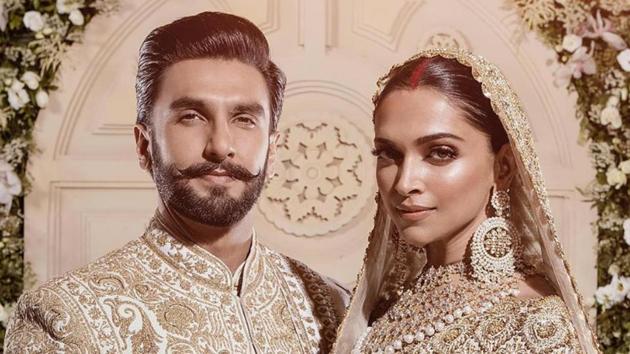 Hindustan Times |
Malavika Sangghvi
There is no doubt that the Deep-Veer wedding raised the bar and pushed the envelope of the big fat Indian wedding scene. For all that it entailed, from the aesthetics to the locales and all that it took to conduct such a high voltage public event, even while maintaining its warmth and intimacy, the couple deserve trophies. What's more, their astonishingly co-ordinated and attractive appearances at each of their events, the handiwork of not one or two, but a whole host of the country's top-line designers, from Sabyasachi (with the exception of the much-discussed Kanjeeveram, of course) along with Manish Arora and Rohit Bal and Abu Sandeep, is proof of the incredible planning that must have gone into the wedding. As is known, an opportunity to showcase their creations on a bride and groom, so famous and attractive, equals unimaginable brand exposure for Indian designers. Money cannot buy endorsement of this kind. But how on earth were egos and protocols maintained through the entire exercise, especially on the occasions when the couple sported different and competing designers at the same time? Could this not lead to the same kind of confusion on credits as had been witnessed recently over Sabyasachi-Angadi Galleria Kanjeeveram snafu? At their Mumbai reception for industry colleagues, Singh had been dressed in a stunning cream and gold Rohit Bal ensemble, while Deepika had donned a matching Abu-Sandeep Chikankari sari. Now, both designers are not only at the top of their games, but also run competing brands. The next day, Vandana Mohan, the official Deep-Veer wedding planner had posted a picture of the couple in these outfits, with a message commending Abu Sandeep alone. Whatever her reason for this, what might have blown into another unnecessary designer dogfight, was quickly defused, with Bal himself politely pointing out her error and requesting her to correct it, which we are happy to note she did. All's well that ended well, but as anyone would say that was phew…quite close.
True Lies
As is known, art gives people enormous social currency. You could be a philistine, a barbarian or a boor, but speak about and collect art, and you will soon be invited to sup with those on a higher branch of the social tree. And this week, at what was a red letter day for the city's glitterati, when an international auction house held a soiree to celebrate its first Indian auction, word comes in of the social mountaineering on display. As expected, the event attracted all the usual suspects oohing and aahing over the works, while tossing off names of artists they "adored", and the canvasses they coveted etc. Like this attractive NRI socialite snowflake, newly-arrived from London, who was seen at the event, perusing each canvas with studied concentration.
"So, which is your favourite one?" A Mumbai cultural grande dame had asked her, more out of politeness than interest. The socialite is said to have emitted a deep sigh and launched into fulsome praise of one such work, describing its colours, its form and all salient information about it in minute detail.
"It's as though she had mugged up the entire spiel word-for-word before she'd come," said the grande dame, recalling the encounter.
And, the upshot? On further examination, the grande dame had discovered that neither the canvas, nor the artist had even been part of the display!
As a great poet once written: "In the room, the women come and go."
Greek Epic
To say that Marie Ketty, the Greek lady, who helms the hugely popular sea-facing eatery Thalassa, in Goa's Vagator, resembles a character from a Greek epic, would not be wrong. Her formidable presence, her infectious joie de vivre and her endless repertoire of Grecian delights has made her something of a legend. Wednesday evening saw her in Mumbai to announce and celebrate the launch of her pop-up Thalassa at Lady Baga in Lower Parel, run by fellow restaurateur AD Singh. Word on the block is that until her Goan restaurant officially opens its doors for the holiday season, Singh has invited Ketty to beguile diners at his joint with her Greek fare. We hear a big, fat, plate-throwing, foot-stomping party ensued, which saw the two restaurateurs, past collaborators and current neighbours (and possible) competitors in Goa, kick up their heels together to celebrate.
If that is not straight out of epic Greek mythology, what is?
WTSWTM
What They Say
"Rajinikanth's 2:0 has got India's Cellular Operations Association up in arms as it is about the adverse effects caused by mobile phone radiation on all living beings."
-Media reports this week.
What They Mean
"Over the years, he's fought aliens, other worldly creatures, robots, super villains and monsters, but now, Rajnikanth has gone mano a mano and taken on the world's most deadly of all villains – the humble mobile phone.
Personalise your news feed. Follow trending topics