Maratha agitation: Residents pay price, as protesters damage 160 private vehicles in Navi Mumbai
Jul 27, 2018 11:46 AM IST
Navi Mumbai saw the maximum damage to property at the hands of the rioting mob.
The common man bore the maximum brunt of the violence that erupted during the Maratha Kranti Morcha agitations across 46 places of the state on Wednesday.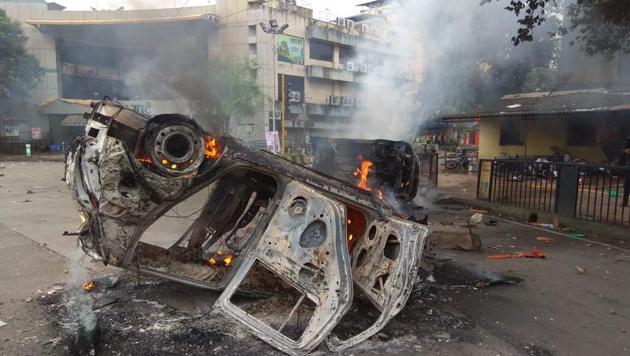 During the agitations, 160 private vehicles were either damaged or set on fire by the rampaging mob. The epicentre of the violence, Navi Mumbai, accounted for the maximum loss of property suffered by ordinary citizens at the hands of the rioting mob. Of the 160 private vehicles damaged across the state, 150 were from Navi Mumbai alone.
As per the assessment made by the state police till Wednesday midnight, the damages to government/police property were far lesser. As many as 104 police/government vehicles had been damaged, with a majority of them being police vans and patrolling vehicles that were set on fire by the agitators.
Police sources told HT that private vehicles parked in designated parking lots and along sides of roads in Kalamboli and Kopar Khairane became easy targets for the rioters. 19 public vehicles were also damaged in arson.
"The compilation of the damage figures is still on and the figures are likely to go up," a senior state police officer said adding, "once the final figures are drawn, the lists would be sent to collectors in the respective districts for the recovery of the damages from the bandh organisers."
During the violence, 54 policemen across the state had suffered injuries, while one of them had died in Aurangabad due to cardiac arrest.
In rural Maharashtra, violence was prominently reported from Satara, Beed and Hingoli where the rioters mainly targeted policemen and public property.
While 21 policemen were injured in Satara, 15 police vehicles were torched in Beed and Hingoli. In the 158 road blocks staged by the protestors across the state, Hingoli accounted for 19 – the maximum, followed by Ahmadnagar (16) and Navi Mumbai and Thane (13 each).
The maximum instances of stone pelting were reported from Beed (15) and Navi Mumbai (10), police figures indicated.