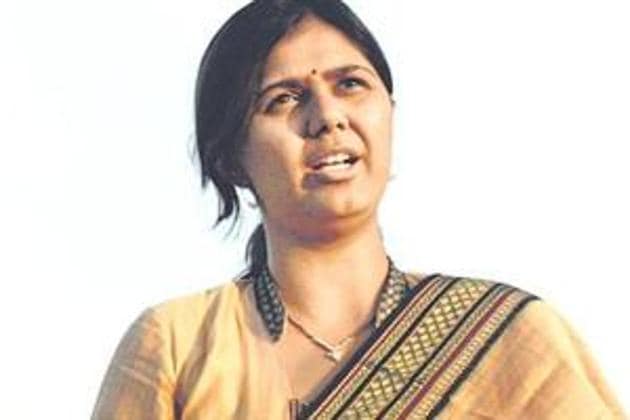 Meet Pankaja Munde: Controversy's child in Fadnavis government
On Wednesday, she felt vindicated when the anti-corruption bureau (ACB) closed the probe report against her department's alleged Rs206-crore chikki scam
UPDATED ON DEC 22, 2016 02:33 PM IST
If there is any controversy's child in the Devendra Fadnavis-led government in Maharashtra, it would have to be state women and child development minister Pankaja Munde.The 37-year-old daughter of late BJP leader Gopinath Munde also has an uncanny ability to weather these controversies.
On Wednesday, she felt vindicated when the anti-corruption bureau (ACB) closed the probe report against her department's alleged Rs206-crore chikki scam.
The reports of this scam, one of the first of the new BJP government, broke out last year. It forced Munde, then vacationing abroad, to cut her visit short and issue clarifications on national TV channels. The scam had haunted her in all state legislature sessions.
Launching a stinging attack over the ACB's closure report, the Opposition has accused the BJP of a cover-up. The state government had never given its consent for this probe that was made half-heartedly by the agency, said the Congress.
"This time last year, I was crying myself hoarse telling everyone that these allegations had no basis. I gave explanations with documents repeatedly on the floor of both the Houses. But, the Opposition did not want to listen. It was enough to attack me as I am my father's daughter,'' Munde told HT.
Munde's rise to power is indeed linked to her name. As the eldest daughter of Gopinath Munde, former deputy chief minister of Maharashtra, Pankaja para-trooped into active politics to fend her father's home turf in 2009. While he contested the parliamentary polls, she contested from her father's assembly constituency, Parli, and won the seat.
But, her entry into politics also led to a split in the family. Her cousin, Dhananjay, till then seen as Munde's political heir, rebelled and joined the Nationalist Congress Party (NCP). Today, as the Leader of Opposition in the Legislative Council, he continues to be among her nemesis in politics.
With her father's sudden demise in 2014, barely months after BJP came to power in the Centre, Pankaja was left alone to prove her metal as a politician.
She succeeded by carrying out a giant Jan Sangharsh Yatra across the state drawing in lakhs supporters, from the Other Backward Classes. She was also successful in holding rallies across the state for her party.
This was also when the clamour for Pankaja as the chief minister was first heard from her supporters at one of the rallies. The demand was tacitly recognised by none other than party president Amit Shah.
Barely days after the BJP swept assembly polls, she courted her first big controversy. She was reported saying that she had CM ambitions and had credentials as a mass leader while most of the other young BJP leaders were largely drawing room politicians. Since then, the tag of being CM aspirant has stuck to her with her relations with Fadnavis often under media gaze. Pankaja, had then refuted this report, saying she was 'misquoted'.
In the government, she faced the chikki scam allegations, followed with another controversy over issuing the Rs6,300-crore Take Home Rations (THR) tenders with activists alleging that the minister was playing into the hands of a few contractors at the cost of small women self-help groups.
Her selfies taken in drought hit Maharashtra while surveying water shed development works went viral as that of an indulgent minister and her public spat on Twitter with Fadnavis after she lost out one of her portfolios earned her and Fadnavis a tick-off from Delhi bosses. She also had a face-off with the spiritual guru of the Vanjari community at Bhagwan Gad, seen as her father's close associate Namdeo Shastri, recently in a bid to establish her leadership of the community.
"I would like to believe that the worse (in terms of controversies) are over. The media does love to slam me and I can see that as the handy work of my political opponents. However, I have been vindicated on both big issues, the chikki tenders and THR tenders. Recently, the apex court told us to continue with our tender in THR, upholding our stance,'' said Pankaja.
Notwithstanding controversies, Pankaja remains as one of the very few BJP leaders, who can command a mass base in the state today. She has inherited a ready constituency of the Vanajari caste, a dominant OBC community, which has been trying to consolidate behind her. Political observers believe that she will set herself up as an OBC leader in the coming days, which will help to strengthen her base in the state polity.
Her legacy and her support base continues to be a reason why Fadnavis cannot sideline her completely. It's also one of the reasons attributed to her political survival.
It remains to be seen whether she will court more controversies in the remaining two-and-a-half years of the Fadnavis government or learn to stay out of media scrutiny.
READ
5 things we know about chikki scam and allegations against Pankaja Munde
Close