MMR: Mumbai city's next big development hotspot
Aug 28, 2018 01:56 AM IST
The construction of the proposed Navi Mumbai airport — likely to take off from October this year — is setting the stage for the development of an urban sprawl of residential and commercial townships across Panvel, Kalyan, Ambernath and Bhiwandi, areas that together are called MMR.
A development boom is taking root in the Mumbai Metropolitan Region (MMR), boosted by the proposed international airport at Navi Mumbai, and several projects that promise to improve connectivity in the areas.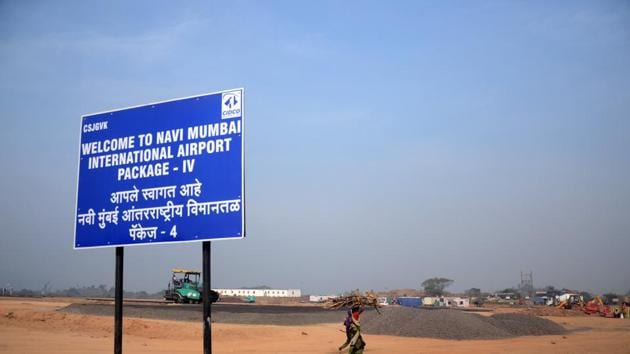 Nearly four decades after Navi Mumbai was conceptualised as a planned city to decongest Mumbai, the construction of the proposed Navi Mumbai airport — likely to take off from October this year — is setting the stage for the development of an urban sprawl of residential and commercial townships across Panvel, Kalyan, Ambernath and Bhiwandi, areas that together are called MMR.
The state's urban development department, in 2017, gave location clearances to at least eight Integrated Township Projects, spread across 2,035 acres of land in MMR. Along with the ITPs, six special township projects cleared under the earlier policy of the Congress-NCP government are also coming up in MMR.
Most of these have been planned near the new international airport, the Jawaharlal Nehru Port Trust and the Navi Mumbai Airport Influence Notified Area (Naina) — a city adjoining the airport that is touted to be 25% larger than Mumbai.
The townships, based on the BJP-led government's December 2016 policy (tweaked from an earlier 2004 policy), are centered around the walk-to-work concept.
They are meant to be self-sustaining centres, with the government asking developers to provide and maintain public amenities, basic infrastructure and smart facilities such as broadband connectivity for a period of 10 years.
The eight ITPs cleared last year include two projects by the Lodha Group, spread across 779.74 acres; Hiranandani Group's Fortune City spread across 417.6 acres; two projects by Valuable Properties Private Limited, in a joint venture with an Ahmedabad group, across 436.7 acres; one project by Runwal Group spread across 128.4 acres; a project by a private Navi Mumbai developer spread across 130.9 acres, and a Wadhwa
group project spread across 141.9 acres.
The state has also gone out of its way to make these township projects viable, revising its policy again in January 2018 to allow developers to use land parcels , including unutilised land in special economic zones, land under environmentally sensitive zones, and afforestation areas "to unlock maximum development potential of land".
For chief minister Devendra Fadnavis, the MMR development boom is also a way to drive the economy. "With the international airport and the transharbour link connecting Mumbai to these areas, the townships will be a part of a new urban agglomeration that can drive our economy for the next 20 years," Fadnavis said. "It is here that new jobs will be created, and new businesses will be set up." Developers who have invested in the area are betting on all these aspects. "This is the next focus area for development, and the area here is equivalent to Mumbai city," said Niranjan Hiranandani, co-founder and managing director of the Hiranandani group. "It is the greatest opportunity since Navi Mumbai, but unlike Navi Mumbai, things are falling into place faster in MMR, with as many as five mega transportation projects underway that will connect this area. Besides the new airport, the Virar-Alibaug multimodal corridor, Mumbai Transharbour Link, the Panvel-Karjat corridor, the CST-Panvel elevated corridor are all catering to this area. The finance and growth centres in the city have already decentralised from Nariman Point to BKC, and from Andheri to Navi Mumbai and Thane.''
The Hiranandani Fortune City, 5km from the new airport, and part of an earlier notified special economic zone, will have 1,000 homes for sale in the market this year, another 2,100 by December 2019. It has already constructed 2 million sqft of commercial space in this project.
"Nearly 44% of revenues came from affordable or mid-income housing last year in MMR, including Palava City and Upper Thane, where we are delivering large townships with all requisite social infrastructure. We expect this number to continue growing in the years to come,'' said Shaishav Dharia, regional CEO, Lodha Group. The Palava ITP, across 671 acres, is part of the larger Palava city; Upper Thane is another ITP in Ambernath taluka, spread across 108 acres.
Palava City will have 7 million sqft of commercial space by 2020, while in Upper Thane, the group plans to create an ecosystem of warehouses and logistics hub along with the residential components to make both the townships economically self-sustaining.
The government has made it mandatory for developers to reserve 20% for affordable housing segment, and 5% for rental homes. But, not all urban planners and experts are optimistic about the integrated townships, pointing out the pace of development of the transport projects, and the way the townships will be planned. "A big worry is that these projects, despite their name, will not be integrated with the development plans of the region or socially with the local people," said Sulakshana Mahajan, an urban planner. "They will be turned into gated complexes or ghettos. Public agencies should retain the responsibility for delivering infrastructure, as past experience shows developers often cut corners on this front.''
Mahajan also pointed out that while many of these townships had hedged their bets on the transportation corridors, those projects were unlikely to get built soon, meaning homes will be created without adequate connectivity. For instance, the Panvel-Karjat corridor or the Virar-Alibaug multimodal corridor, which can offer suburban rail and road connectivity to many of these areas, will take at least another five years to be built. The Navi Mumbai airport is also unlikely to meet its 2019 deadline, and MTHL will get completed only by 2022.