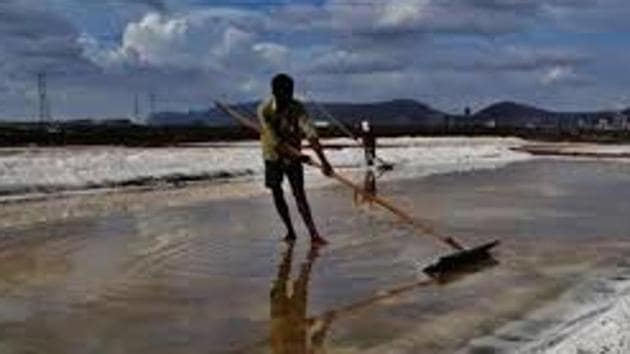 MMRDA restarts survey of salt pan land in Mumbai, ignores its own warning
UPDATED ON APR 10, 2018 12:03 AM IST
The Mumbai Metropolitan Region Development Authority (MMRDA) has started re-assessing if it can carry out development on salt pan land in the city, ignoring its 2016 report that stated that these plots safeguard Mumbai against floods.
In Mumbai, salt pan land is distributed across Mulund, Bhandup, Trombay, Wadala, Mankhurd-Chembur, Dahisar and Goregaon. The draft regional plan of MMRDA for 2016-36 states: "Salt pans are not only important from a livelihood, economy and salt production perspective, but are critically important from the point of view of flood protection as they are shallow depressed areas holding sea water. The salt pans today face a serious threat from the construction lobby of the region leading to a mild decline in the overall area and production."
The draft report is pending with the state government for an approval.
Stuck for decades over ownership issues, the BJP-led government in the Centre decided to open up these plots for development. The state then issued a government resolution, asking MMRDA to prepare a master plan for the project. The survey carried out in 2016 showed that 25 acres or 0.5% of the 5,379 acres in the city can be developed. The fresh survey has started after the Union Ministry of Environment and Forests revised the Wetlands (Conservation and Management) Rules, 2017 to exclude salt pans from wetlands.
Dilip Kawathkar, joint projects director, MMRDA, said, "We have initiated a survey based on the new definition. We will complete it in two-three months."
Environmentalists say they will protest against opening up of these land parcels. Debi Goenka, an environmentalist, said, "It is a long process, but if the state allows commercial exploitation of these plots, we will move court."
Goenka said the Centre's rules may have made the exemption as the land is protected under the Coastal Regulatory Zone (CRZ) rules. "Development is banned in CRZs. MMRDA is only wasting public money by undertaking this survey," Goenka said.
Close