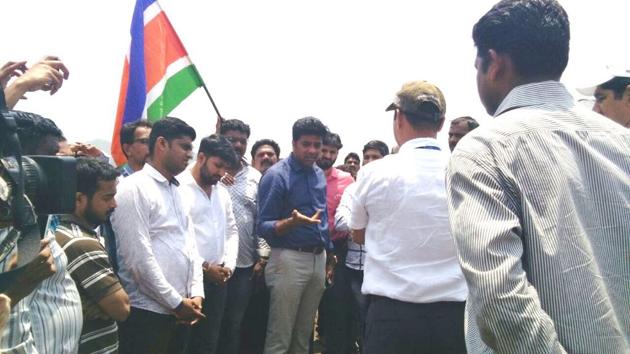 MNS workers in Thane disrupt land survey for Mumbai-Ahm'bad bullet train project
Several farmers in Shil village will lose their land, as the government plans to acquire 2.41 hectares
UPDATED ON MAY 07, 2018 04:45 PM IST
Workers from the Maharashtra Navnirman Sena (MNS) objected to and stalled a land survey that was underway near Shil Phata in Thane district for the Mumbai-Ahmedabad bullet train project on Monday .
At least 30 workers interrupted the survey around 11am and did not allow the district authorities to resume.
Around 39.66 km of the bullet train route will pass through Thane district, and Shil is one of the villages where several farmers will lose their land; the government plans to acquire around 2.41 hectares of land in Shil for the ambitious project.
"District authorities have been conducting the land survey in Shil for the past few days. We are against the project, and we will not allow authorities to grab our poor farmers' lands," said Sandeep Pachange, Thane city president of the MNS' youth wing. "There is no need for a bullet train in Maharashtra; it's being planned only to fulfil the BJP's dreams. There are many other important issues in Maharashtra that need the government's attention."
MNS chief Raj Thackeray is strongly opposed to the bullet train project, and has proclaimed that he will not allow the project to come up until Mumbai's suburban rail network is upgraded. "I shall not allow even a brick for the bullet train project to be laid. First resolve all the basic problems of Mumbai commuters. If Modi wants, let him construct it in Gujarat," Thackeray had said after the Elphinstone Road station stampede, that claimed 23 lives in September 2017. Thackeray, who kickstarted his state-wide tour on May 1, has been telling farmers not to give away their lands.
R Dhumal, assistant commissioner of police, zone 1, Thane, said: "Around 25 to 30 MNS workers came to the survey spot in the morning and stopped the survey work. They are now discussing matters with the district authorities. We have not arrested or detained anyone as of now. The situation is under control."
Close