Monsoon in Mumbai: BMC is better with updates, but fails in planning
Despite tall claims of preparedness, BMC, could not prevent water-logging in the city, though it was prompt in sending out Twitter alerts.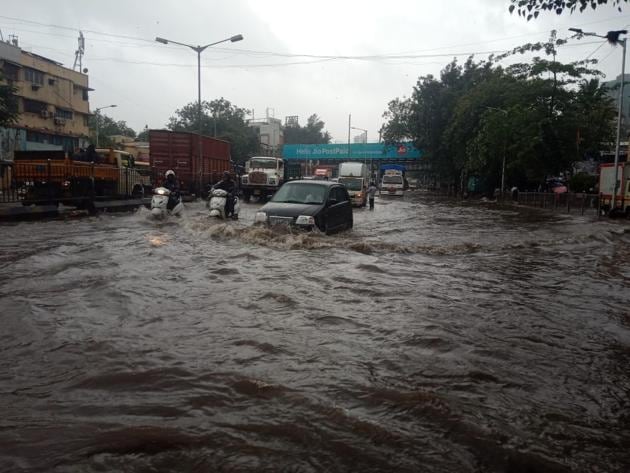 Updated on Jun 12, 2018 11:34 AM IST
Even as the Brihanmumbai Municipal Corporation (BMC) failed to keep the city free of flooding after the first few spells of monsoon on Saturday, there was one area where it bettered its last year's performance – sending out alerts on diversions, water-logging and rain-related ailments.
Last year, the city witnessed heavy rain on August 29, but the civic body sent out its first warning on its Twitter handle, @DisasterMgmtMum, on August 30 around 2pm. By then, half the city had submerged and railway lines were shut. Learning its lessons, this Saturday, the civic body got representatives from the police, central railway and traffic police in its disaster management cell. Through the day, they posted multiple tweets, from waterlogging to receding in different areas in the city. They also posted pictures of the ongoing work and suggested alternative routes motorists could take.
Despite tall claims of preparedness, BMC, however, couldn't prevent waterlogging. While Hindmata junction was at least 1.5-ft deep in water, Dadar, Dharavi, Hindmata, King's Circle and Gandhi market was flooded for at least one hour. The civic body's explanation? They had planned for faster dispersal of water and not prevention of flooding.
Commenting on the waterlogging in Hindmata, civic chief Ajoy Mehta said, "Water in the area receded as expected on Saturday. BMC never said the area won't flood. I visited the area and even after over 60mm of rain in an hour, there was less than 1-ft water." The civic body plans to spend ₹30 crore to build stormwater drains across 2.4-km of the low-lying Hindmata. While the area between Dadar TT and Parel did not receive the highest rainfall on Saturday, it flooded with water from Parel, Lalbaug and Dadar. BMC now plans to intercept the water using stormwater drains and divert it to Britannia pumping station.
Corporators, however, slammed the poor management. "Despite installing pumps at Hindmata and King's Circle, several areas were waterlogged. This shows the lethargic attitude of the administration towards ensuring flooding-free monsoon," said Ravi Raja, Congress group leader.
"Along with building drains, the civic body also needs to check if the existing ones are being desilted," said Nandkumar Salvi, former chief engineer, storm water drain department. "Hindmata's gradient is such that water will be stagnant there. We need to improve its water receding capacity," said DK Pathak, former engineer, BMC.
Close Story