Mumbai couple guards an 80-hectare wetland, protects it from destruction
In 3 years, the Agarwals have prevented the land from being damaged five times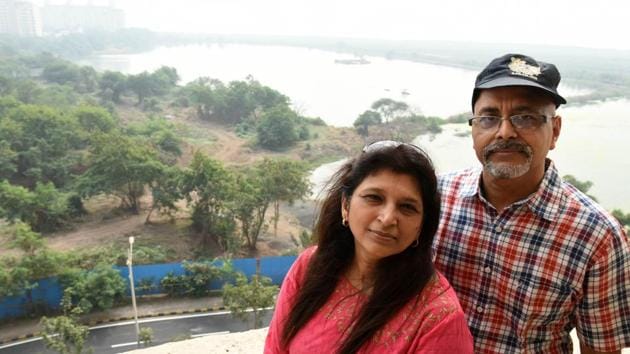 Updated on Jan 15, 2018 11:00 AM IST
Refraining from the usual practice of blaming authorities for destruction of mangroves and wetlands in Mumbai Metropolitan Region, this Navi Mumbai couple felt obligated to make a change. For the last three years, Sunil Agarwal, 55, and his wife Shruti, 50, residents of NRI Complex in Nerul, Navi Mumbai, have been guarding an 80-hectare wetland near their home.
As environmental watchdogs, they have successfully stopped five cases of mangrove destruction and registered several complaints with the local police station and the state environment department to protect this site, home to 80 different bird species, a lake (Talawe/Seawoods), and dense mangrove cover. They are planning to file a petition in the Bombay high court seeking long-term protection of the site.
Natural wetlands comprise creeks, estuaries, marshes, riverbanks, seashores, backwaters, coral reefs. man-made lakes, salt pans, reservoirs, abandoned quarries and dams are also considered as wetlands. While mangrove destruction in Maharashtra was banned by the HC in 2005, wetland destruction in the state was banned in 2012.
Residents of Navi Mumbai since 1996, the couple moved to NRI complex in 2015. "The mangroves were the reason for us to move here," said Sunil. "However, within a year, we began witnessing cases of mangroves either being hacked or burnt, and regular instances of trucks dumping debris at this patch."
The couple began investigating if these activities were legal. "Last year the Bombay Natural History Society (BNHS) submitted a detailed study that indicated the presence of more than 80 different species of migratory wetland birds visiting this site. We also discovered that The Energy and Resources Institute (TERI) had recommended this wetland patch as an Important Bird Area (IBA) for better protection and identified four mangrove species," said Shruti.
"We then started taking rounds of the site and kept vigil from our home, and whenever any illegal activity was observed, we took videos and approached the police immediately," said Sunil, adding that they filed three first information reports (FIRs) of the five major cases since 2015. "Surprisingly, no one was arrested but minutes after our complaints, the illegal activity would stop."
In October 2016, the state urban development department issued a notification changing the land-use of the patch from a no-development zone to regional park based on a proposal by City and Industrial Development Corporation (CIDCO) to develop a golf course and a residential colony on 67 of the 80-hectare land.
The couple met Vinod Punshi, president, Navi Mumbai Environmental Preservation Society, who has been actively involved in mangrove protection for a decade. "He (Punshi) was already aware of the development and had made it an additional prayer as a part of his PIL in the HC for mangrove protection. Based on his suggestion, we staged several protests in October and November last year, and ensured no construction began," said Sunil.
Punshi said while the matter is still in court, as of now, citizens' efforts have slowed down the construction process. "We are very happy that ordinary citizens are taking initiative to preserve our environment heritage. This is an area rich in biodiversity, which can be lost due to the proposed development," he said. "Based on BNHS findings, it is imperative we save this location for migratory birds as they will cause havoc once the Navi Mumbai airport is ready."
Since 2015, the couple has been cleaning the mangroves four times a year to ensure that garbage do not choke mangrove roots. "They (Agarwals) are a rare tribe and we need many more such role models to conserve what is remaining of our wetlands. I hope people take a cue from efforts made by this couple and replicate it," said Stalin D, member of the wetland grievance committee constituted by the Bombay HC.
Close Story
Personalise your news feed. Follow trending topics