Mumbai has 120 'endangered' African trees, BMC to take steps to protect them
May 17, 2017 04:48 PM IST
A native tree to tropical Africa, also known as the Tree of Life, was brought to the country over a thousand years ago by Abyssinian and Portuguese traders.
Mumbai has 120 Baobab trees, the on-going tree census of the civic body revealed. The exotic species was recently announced as 'endangered' by United Nations.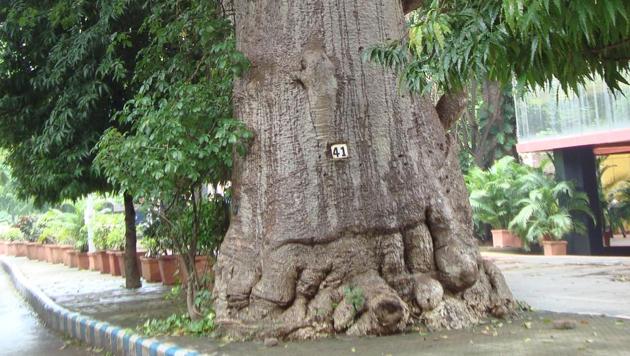 The on-going tree census in Mumbai has found 29,89,654 trees across the city with 70 different rare species. Almost 20% of the tree census is remaining. With a number of infrastructure projects sanctioned in Mumbai, environmentalists said that trees were being axed to pave way for such projects. A list of guidelines has been submitted to the civic body's tree department by the contractors to protect endangered trees like the Baobab.
A native tree to tropical Africa, also known as the Tree of Life, was brought to the country over a thousand years ago by Abyssinian and Portuguese traders. The Baobab tree has nine species. While the species in Mumbai (Adansonia digitata) is not as threatened as the ones in Africa (Adansonia grandidieri), contractors conducting the survey confirmed that all 120 were extremely rare and need to be protected.
The unique tree is known for its succulent properties of holding water and nutrients much more than other trees that leads to a swollen base. According to the United Nations Environment Programme (UNEP), a full grown Baobab with an average diameter of its bark at 32-feet can hold about 2,300 gallons (8,700 litres) of water at its swollen base. The tree bears a pulpy fruit, ranging from 20-30 centimetres that has a dry powdery pulp inside of it. The tree's fruit is used for various things such as medicine and food.
UNEP estimates that the species is under pressure from massive exploitation for its fruits, seeds and seed oil, and all are being traded internationally leading to a lot of deforestation, especially in African countries like Madagascar.
According to the census study, Baobab is found at locations like Colaba, Bandra, Andheri, Kandivali, Jijamata Udayan Byculla, as far as Vasai and a number isolated locations in the city that were earlier not known. Fifteen Baobab trees were spotted at Colaba and Navy Nagar, making it the location with maximum number in the city.
"It is amazing to note that the tree species that was planted many years ago in Mumbai has managed to thrive in this urban setting. The city should be proud that it is home to this heritage tree and I don't think there is any other mega city that could be home to so many trees," said a member of the research team of the contractors hired by the Brihanmumbai Municipal Corporation (BMC) to carry out the tree census in Mumbai. "We have submitted guidelines to BMC highlighting that the seeds, fruits and oil need to be protected and seeds replanted wherever possible to increase the number."
Experts said that BMC needed to cordon these trees off for people to realise their value. "While these trees are sturdy enough to protect themselves, we need to put up signboards and cordon these trees off. Only then will people realise these trees are not only treasure but critically important heritage sites," said Kshitij Ashtekar, environmentalist.
Apart from the Boabab, the Gulmohar tree is also endangered. "The Gulmohar is also endemic to Madagascar and introduced into sub-tropical regions worldwide. While it is endangered in the wild, it is widely planted across the city. It is time we took responsibility and protected these trees," said Rene Vyas, tree expert, who has conducted 82 tree walks across Mumbai.