Mumbai Metro's real green moment is yet to arrive
Updated on Nov 25, 2018 11:38 PM IST
The 11.4 km-long Versova-Andheri-Ghatkopar metro line produces a net increase of 52.9 tonnes of greenhouse gas emissions every day. Has Mumbai's Metro line failed to meet an important standard for an MRT?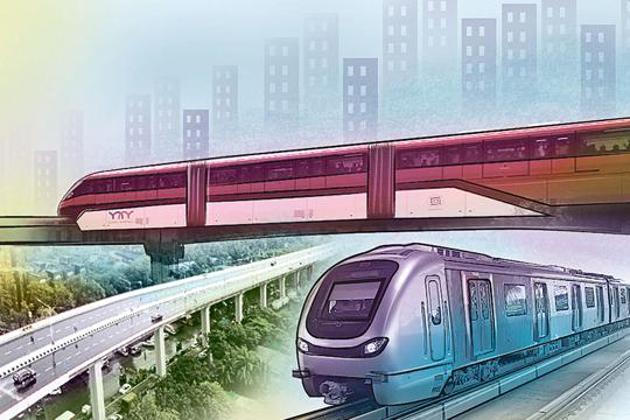 Hindustan Times |
Manoj Nair
A study by the Indian Institute of Technology-Bombay (IIT-B) on greenhouse gas (GHG) emissions from the Versova-Andheri-Ghatkopar metro railway, the first of the many that will crisscross Mumbai, said the service prevents daily emissions of 22.7 tonnes of carbon dioxide (CO2) because its commuters have shifted away from more-polluting buses and other road vehicles.
But the operation releases 75.6 tonnes of CO2 every day because the service consumes electricity for traction, lighting, air-conditioning, escalators and other facilities.
Mass Rapid Transit (MRT) systems are hailed as one of the biggest defences against GHG emissions which are rapidly changing earth's climate. Cities all over the world are investing in MRTs. Singapore is adding new lines to its existing network of 200km. London's MRT, called the Underground, is over 150 years old and is still under expansion. The Beijing Subway, which has over 600km of lines, will reach a length of nearly 1000km by 2021. Mumbai will have a dozen lines with a total distance of over 250km in a decade.
Electricity used to run metros will produce GHG – emissions will be less if solar, wind or other renewable sources are used. Environmentalists calculate emissions that would have been produced by commutes if there was no MRT in the area. Without an MRT, a city will have more road traffic, with more cars, buses and two-wheelers, leading to more CO2 emissions. The savings in CO2 emissions, therefore, comes from a net reduction in GHG caused by commuters shifting to an MRT.
Studies have shown that New York's Metropolitan Transportation Authority, which runs commuter rails, an underground rail (subway) and buses, prevents emissions of about 17 million tonnes of CO2 annually — by taking cars and other private vehicles off the road — while emitting two million tonnes. It is estimated that a new metro line in Rio de Janeiro led to a net reduction of over 55,000 tonnes of CO2 emissions daily, with each passenger kilometre resulting in net-avoided emissions of 44 gms of CO2.
The Delhi Metro Rail Corporation has said that the system — with nearly 300km of lines and among the top 10 networks in the world — is 'carbon neutral', preventing more carbon emissions than it generates. By making operations more energy-efficient, and by adding unconventional power sources like solar, Delhi's metro is planning net savings in CO2 emissions of 26.6 million tonnes by 2031. A paper by the International Association of Public Transport, a think tank, said that by investing in public transport and increasing the proportion of people using it, the world can prevent the emission of 550 million tonnes of C02.
The 11.4 km-long Versova-Andheri-Ghatkopar metro line produces a net increase of 52.9 tonnes of GHG every day. So, has Mumbai's Metro line failed to meet an important standard for an MRT? Will people opposing the metro rail in Mumbai use findings from the IIT-B study to bolster their argument that the city can go about its business as usual, managing with congested roads and a horrifically-crowded MRT system – the local trains?
No, because, as the IIT-B study explained, a majority of those who take the metro have switched from other modes of public transport like buses which release fewer greenhouse gases per capita compared to private vehicles.
Mumbai already has a high proportion of its commuters travelling by public transport — nearly 80% of trips are undertaken on public bus and rail services, with more half of the trips in the local trains alone.
For comparison, 56% of New Yorkers use public transport, including the commuter trains, a subway and ferries – one of the highest rates in the United States. Delhi's metro rail has led to net reductions in GHG because its users have moved away from more-polluting road vehicles.
The IIT-B study on the environmental benefits of Mumbai's metro rail is not the last word on the subject. As the authors said, the net benefits will come when more metro lines become functional.