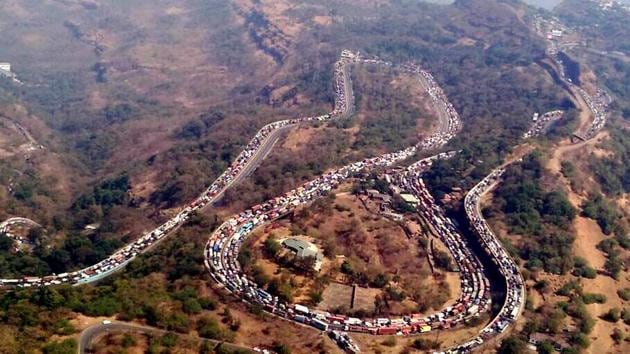 Mumbai-Pune Expressway: Cops need to do more to prevent accidents
On Monday, five of a group of eight friends from Mumbai were killed when a tempo crashed into them near Panvel
UPDATED ON MAY 01, 2018 10:06 AM IST
Taking note of rise in number of accidents on the Mumbai-Pune expressway, the state highway traffic department took several steps, from putting curbs on movement of heavy vehicles to installing warning signs, in the past few months to make the stretch safer.
But that hasn't changed the scenario much.
On Monday, five of a group of eight friends from Mumbai who were travelling to Pune for a wedding were killed when a tempo crashed into them near Panvel. On April 4, 12 passengers of a private luxury bus were injured after their bus overturned near Adai Circle at Panvel. Two people were killed and five injured in two separate accidents on April 1.
The expressway witnessed 313 accidents in 2015, 281 in 2016 and 360 in 2017. Police authorities, however, blame the numbers on human error.
"The first lane [the one adjacent to the divider] is for overtaking. The second lane is for light vehicles and the third for buses and other heavy vehicles. Most motorists don't follow the rules. They randomly enter lanes, hitting vehicles moving ahead of them. We are taking special drives to keep an eye on violators," said a senior official.
The authorities also plan to use drones to monitor vehicles on the road. As part of pilot project, they tried using the equipment for a day, after which a proposal was sent to the state. The state is yet to take a final decision.
"The expressway sees excessive traffic during weekends and a few hours a day. Heavy vehicles are not allowed on the expressway during golden hours, so cars and buses can pass," he said.
The authorities have put up signboards ahead of every tunnel and sharp curve. "These boards are meant to tell the motorists how far they are from a tunnel or curve," another officer said. "The most obvious reason behind accidents is speeding. Motorists don't stick to the speed limit (80km an hour), thus losing control," said a senior officer from the Navi Mumbai traffic department.
Close