Mumbai's engineering colleges see rise in job offers, packages from IT firms
Updated on Mar 18, 2019 12:30 AM IST
This year, all major firms joined the recruitment process, offered salary packages as high as ₹40 lakh an annum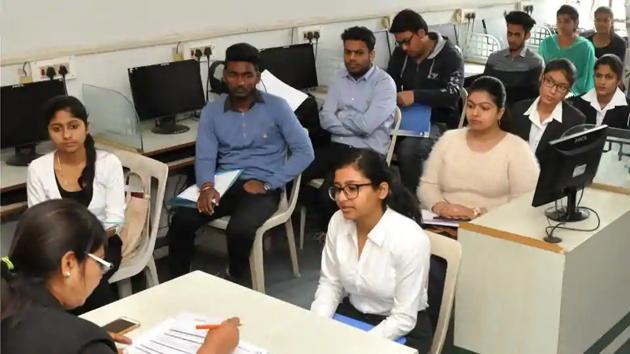 Hindustan Times |
, Mumbai
Muab Qazi
After a two-year slump, the city's engineering colleges are seeing a rise in offers and pay packages from information technology (IT) companies, with some even touching ₹40 lakh. While IT firms such as Accenture, Larsen and Toubro (L&T) Infotech, Capgemini and Infosys are hiring students in bulk, Tata Consultancy Services (TCS) and Wipro opted for a pan-India centralised recruitment process.
"We are witnessing a surge in demand for IT and computer science graduates compared to last year. There has been an unusual growth in packages, which wasn't seen in the past decade," said Gopakumaran Thampi, principal, Thadomal Shahani Engineering College (TSEC), Bandra.
Here's an example: Accenture made 178 offers at the KJ Somaiya College of Engineering this year, up from 130 and 140 offers in 2016-17 and 2017-18, respectively. The recruitment figure for the company was much higher – 301 – in 2015-16.
At Thakur College of Engineering and Technology (TCET), Kandivli, Accenture offered 150 jobs. Last year, the company didn't visit the college, as it didn't want to share the sought-after first day of placements with Infosys. MH Saboo Siddik College of Engineering (MHSSCOE), Byculla, saw L&T Infotech and Wipro, both of whom were absent last year, making offers to their students this year.
Several students received attractive international packages, especially from Japanese firms. Uniqlo, a Japanese clothing company, recruited students for software profile from at least three colleges – MHSSCOE, Vidyalankar Institute of Technology (VIT), Wadala, and Sardar Patel Institute of Technology (Andheri) – offering between ₹37.5 lakh to ₹39 lakh an annum. Works Applications, a Japanese enterprise resource management (ERP) firm, made three offers of ₹37 lakh each at TSEC.
The packages, too, have gotten better. At TSEC, the number of students receiving at least ₹5 lakh an annum doubled to around 100. At TCET, TCS and Infosys offered salaries between ₹8-10 lakh, up from the highest ₹7 lakh offered last year.
In addition to their regular job profile, which pays around ₹3.5 lakh to freshers, some of the mass-recruiting IT firms such as Infosys and Cognizant offered another job profile of ₹6.5 lakh package at Sardar Patel Institute of Technology. One of the students at the college was offered ₹40 lakh per annum, including stock options and other perks, by software giant Microsoft.
According to experts, the growth in new technologies and bagging of lucrative contracts and investments by IT services firms has contributed to the renewed boom in hiring. "The improvement in the IT recruitment is mainly owing to development in new areas, including artificial intelligence, blockchain, cloud and data, collectively known by the acronym ABCD," said Braj Mishra, principal, TCET.
Kamal Karanth, founder, Xpheno, a Bengaluru-based specialist staffing firm, said, "For the past two to three years, IT companies were running on a thin batch, filling only 70% of their workforce requirement. The recruitment has gone up in the past four-five months. The arrival of guaranteed investment certificates (GICs) in the country and large contracts bagged by some of the companies in the past six years are the other factors."