Mumbai to get 500 plastic bottle crushing machines
Updated on Apr 15, 2018 07:20 AM IST
More than 30 lakh plastic bottles are circulated in the city on a daily basis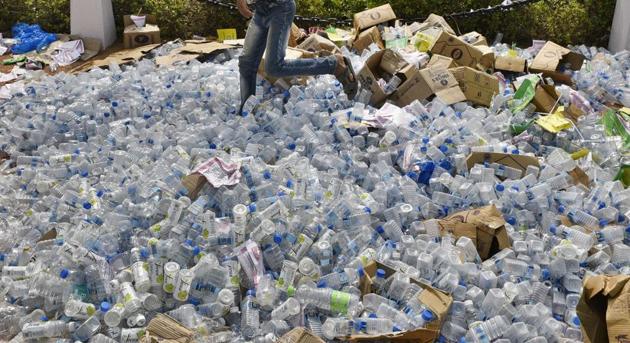 Hindustan Times |
, Mumbai
Sagar Pillai
The Brihanmumbai Municipal Corporation (BMC) soon plans to install more than 500 plastic bottle-crushing machines across the city, to help in implementation of the ban.
More than 30 lakh plastic bottles are circulated in the city on a daily basis. The machines, which the civic body will obtain through corporate social responsibility (CSR) funds for free, will be installed at tourist spots, gardens, markets and other areas with higher footfall. All wards have been directed to identify spots where the machines should be installed. Public places in A ward (Fort, Colaba, Nariman Point), which have higher footfall compared to other wards, will get more machines. Spots such as Gateway of India and Marine Lines, too, will be included on the list. The machines can crush over 50,000 bottles a day.
A senior civic official said, "We will install maximum number of machines at public places. Corporate firms are willing to fund the machines. The BMC may get these machines for free under the CSR scheme. We will exclude private places such as multiplexes, hotels, societies and restaurants."
The BMC, which is the implementing agency for plastic ban, will first install these machines for demonstration at their headquarters located at CSMT.
The civic body has also identified 25 spots for collection of plastic items in civic markets and waste segregation centres.
The state government, through a notification on March 23, imposed a ban on purchase, sale, distribution and storage of single-use plastic along with thermocol items and polyethylene terephthalate and polyethylene terephthalate esters bottles of less than 0.5 litres. While it later lifted the ban on all small PET and PETE bottles having carrying capacity of less than half litre, consumers will have to shell out Rs2 in addition to the MRP (maximum retail price) to buy a mineral water bottle or soft drink of less than a litre and Rs1 for bottles of a litre and above, under the depository buyback scheme.
Viren Shah, president of the Federation of Retail Traders Welfare Association (FRTWA), said, "Instead of a blanket ban, the state government should find a solution to plastic. This is clear discrimination as the state government has excluded plastic bottles."
Personalise your news feed. Follow trending topics