Mumbaiwale: Meet nine lesser-known goddesses of Mumbai
Oct 13, 2018 12:27 AM IST
Golfa, Sitla, Harba, Manmala, Hindmata and other devis have their own following among local communities. Will they grant your wishes too?
It's a mystery. For years, I've wondered about Hindmata, the goddess who gives her name to a cinema hall and the Dadar East neighbourhood. Surely she was a cousin of Bharatmata in Lalbaug down the road. Could she also be related to Jai Hind, the other nationalistic-sounding movie hall further south? And who was she really?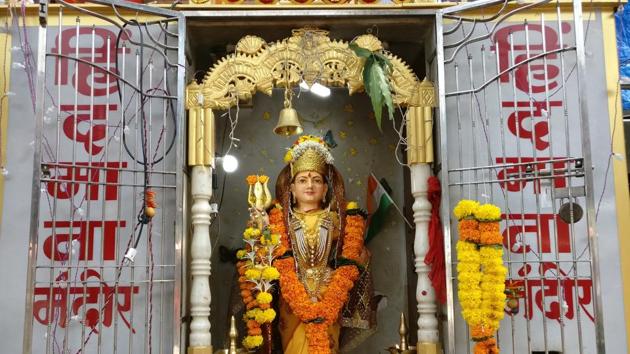 Some of the questions found answers in the last decade. Newspapers claimed that the three cinemas were established in the 1930s and were collectively referred to as Mother India. Hindmata hosted Quit India protest meetings and switched from screening Marathi films to Hindi in the 1950s.
Hindmata herself was an enigma – out of sight, under a canopy atop the cinema's roof even as screenings stopped in the mid-1980s. Then, in 2014, as the cinema changed ownership and reopened, she came to live in her own stainless-steel lodgings right on the podium. She wore a crown, had new saris every week and disco lights at night. And she was beautiful.
Hindmata, trident in hand, is not a traditional deity. But across the city, stand goddesses who've commanded a following for centuries. You know the popular ones: Kalbadevi, Prabhadevi and Mahalaxmi, after whom neighbourhoods are named, and Mumbadevi, from whom the name Mumbai possibly comes. Take a look at the lesser-known devis across Mumbai:
Sitala Devi, Mahim
An incarnation of Durga, Sitala is seen as a cleansing, cooling force and is worshipped when children have communicable diseases like smallpox, sores, dysentery, measles and cholera. Her hands hold a broom, a winnowing fan, a vial of water and a pot of pulses. There are other idols in the complex – modern idols of Ganesh, Shiva, Kali and Sai Baba. Sitala herself is a stone head with brightly painted eyes.
Manmala Devi, Matunga
The temple's name, Shree Saat Asra Manmala Devi Mandir, indicates it is one of Maharashtra's many temples dedicated to the Seven Sister goddesses. Legend has it that they were wives of the seven sages who were accused of infidelity when they became pregnant. They turned angry at the accusation, cursing women who didn't show them respect. In Matunga, the seven stone idols have a following among locals. Devotees, however, come for the well by the temple, the water of which is said to cure skin diseases.
Suvarna Nagadevi, Powai
At the Shree Mahashesha Rundamalini Temple in Powai, nine goddesses are worshipped, including Laxmi, Nagdevi. Saraswati, Nav Durga, Rakteshwari and Mother Mary. Devotees spread across all faiths and have been coming since the temple was sanctified in 1963.
Marubai Devi, Matunga
Many believe that Matunga's original name was Marubai Tekdi Gaon, from the local goddess, Maru, an incarnation of Durga, who had a small temple on a hillock at what is now King's Circle. As the road and the neighbourhood came under planned development, the temple moved close to where Aurora Cinema now stands.
Gamdevi, Grant Road, Mazgaon, Tardeo, Juhu, Andheri, Ghatkopar, Borivli and Thane
Gamdevi or Gaondevi simply means village goddess, so it explains why so many neighbourhoods have one. They tend to be incarnations of Durga, atop a hill so the deity could watch over her people. Many are also built near the sea, to protect from floods and storm and the one near Dockyard Road is believed to be built by the Maratha commander Chimaji Appa.
Golfa Devi, Worli
She's right off the Sea Link, on the way to Worli Fort, and counts the local fisherfolk as followers. Golfa Devi sits between her stone sisters, Harba Devi and Sakba Devi, and is famous for how she is worshipped. Devotees tend to ask questions that can be answered with a Yes or No. Metal discs are placed on either side of the idol's head. If the left one falls first, locals believe her answer is no, if the right one does, it's taken to mean yes.
Jogeshwari
Inside one of the sixth-century caves in Jogeshwari is a small stone idol and what are believed to be the footprints of the goddess Yogeshwari, an incarnation of Durga. The caves, however, draw crowds largely for the Shiva idols and the rock carvings.
Harba Devi, Madh Island
The sister of Worli's Golfa devi has her own temple by the sea at Madh, with followers among the fishing community. No Yes-No questions here, however.