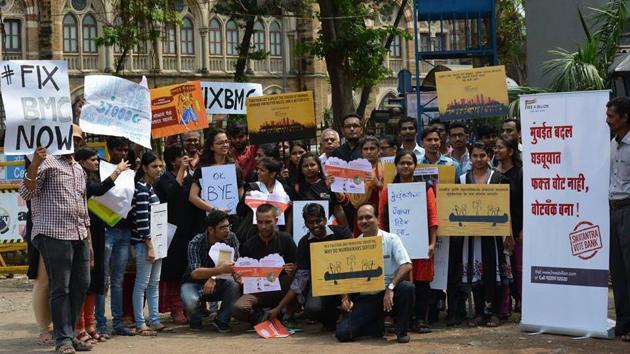 NGOs ask Mumbai civic body to make Lower Parel pedestrian-friendly
According to the Development Plan (DP) 2034, 51% of all trips in Mumbai are on foot
PUBLISHED ON DEC 23, 2016 11:29 AM IST
Citizen organisations have come together to demand better walking conditions in the crowded commercial space of Lower Parel. Non-profit organisations, Free A Billion and The Walking Project will stage a protest opposite Urmi Estate in Lower Parel to demand pedestrian-friendly streets.
"We have initiated an online petition to make Lower Parel walkable. We will garner support for this petition on Friday and present our demands to the municipal commissioner," said Biney Koul from Free A Billion.
While Free A Billion is a newly-formed citizen group that fights for better civic services, The Walking Project works towards creating pedestrian-friendly facilities in the city.
According to the Development Plan (DP) 2034, 51% of all trips in Mumbai are on foot. The most walking is done at the start and end of a person's journey. One of the biggest business hubs in the city, Lower Parel sees lakhs of office-goers daily. However, people have to contend with traffic, badly-paved footpaths, encroachers and garbage on their way to and from their offices.
In HT's recent Unclog Mumbai series, experts had emphasised the need for pedestrian-friendly and bike-friendly streets in the city, as eco-friendly modes of transport. In an interview with HT, municipal commissioner Ajoy Mehta had said the BMC was looking to promote both concepts.
"People walk a minimum of 20 minutes daily from the station to their office. To walk around small shops, they sometimes resort to walking on the roads in traffic and other dangerous conditions. The BMC needs to give us walkable footpaths," Koul said.
At a recent press meet, Mehta admitted that the footpaths in Mumbai are not in a good condition. He added that he cannot take his aged parents for a walk owing to the state of footpaths.
Read
20 Mumbaiites initiate 'walking project' to make city pedestrian-friendly
Cannot take parents for walk in city: Civic chief on Mumbai's footpaths
No cars please: Pedestrian-only streets proposed in Mumbai development plan
Close