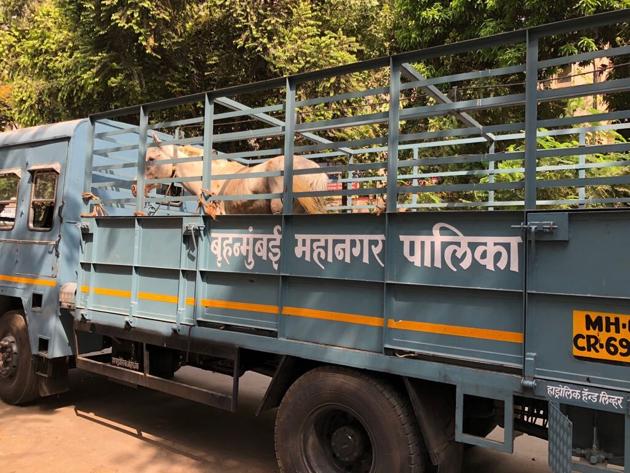 Police rescue 2 malnourished horses used for illegal joyrides from south Mumbai
The injured animals were seized from Nariman Point, and are now receiving medical care.
UPDATED ON MAY 23, 2018 04:59 PM IST
Two malnourished horses used for Victoria carriage joyrides, which were tied up under the harsh sun without food or water, were rescued by the police from Nariman Point, opposite Tulsiani Chambers, on Tuesday.
The two animals were seized after members of People for the Ethical Treatment of Animals (PETA) India approached the Cuffe Parade police and filed a complaint. "We found both horses to be thin and malnourished. They also had multiple wounds on their bodies," said Rashmi Jadhav, senior police inspector, Cuffe Parade police station.
Jadhav said a First Information Report (FIR) has been filed against the custodians of the horses under the Prevention of Cruelty to Animals Act, 1960. The animals were later transported to the Brihanmumbai Municipal Corporation's (BMC) cattle pound in Malad for medical examination and immediate veterinary care.
"Keeping horses in Mumbai is illegal and using them for joyrides is cruel. Such horses are forced to live in filthy, unlicensed stables and are not provided even with basic needs such as food, water and shelter," said Meet Ashar, emergency response coordinator, PETA India. "We are working with the police and BMC to implement Maharashtra's rehabilitation plan for carriage horse owners and drivers."
In June 2015, the Bombay high court (HC) ordered a complete ban on Victoria horse-drawn carriages, used commonly for joyrides, and ordered them to be phased out in a year. The court also observed that most of the horse-drawn carriages were plying illegally as the BMC had taken a policy decision in 2013 to not grant them licences.
In a move to rehabilitate those who had lost their jobs as a result of the ban, last year, the Maharashtra government decided to offer licences for hawking and driving autos and taxis to half of the owners and drivers. The court has accepted the rehabilitation plan, which is, however, yet to be executed completely, state government officers said.
Close