Sena echoes Yashwant Sinha's comments, says demonetisation has 'destroyed the economy'
Updated on Sep 28, 2017 12:06 PM IST
Shiv Sena also dared BJP to prove Sinha's comments as false claims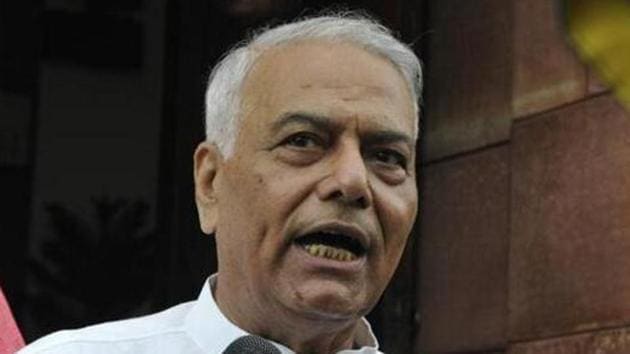 The Shiv Sena on Thursday latched on to BJP leader Yashwant Sinha's criticism of the Narendra Modi government over the "mess" in the economy and slammed the government. The Sena in its party mouthpiece 'Saamana' said that demonetisation during economic slowdown was akin to adding fuel to fire, and the move has "destroyed the economy".
Mocking the BJP's claims about development, the Sena said that when the people of Gujarat are asked about the development in the state, they say Vikas Gando Thayo Che (Vikas has gone mad). "Not just Gujarat, many top BJP leaders have presented a picture that there is a lot of development happening in the country. Winning elections with money-power and by rigging EVMs is not 'Vikas' (development). The growth rate is not 5.7 per cent as claimed by the government, but is actually 3.7 per cent or less," the editorial stated.
The Marathi daily added that congress vice president Rahul Gandhi has also made some "sensible statements" about the vikas (development) in the poll-bound state of Gujarat. "Till yesterday 'economists' like Manmohan Singh and P Chidambaram were slamming the decision of demonetisation, that time BJP leaders said Singh and Chidambaram 'Gando Thayo Chhe'. Now their own party member, who was a former Union finance minister, has made statements against the policies of the government that has resulted in a slowdown," the editorial added. Shiv Sena also dared BJP to prove Sinha's comments as false claims.
The Sena added that investments in the country are at an all time low, there's an agrarian crisis and exports are not good. "The economy is on a downward spiral, is poised for a hard landing. Many in the BJP know it but do not say it out of fear," the Marathi daily quoted Sinha's article.
Sena attacked Modi and finance minister Arun Jaitley are working overtime to make sure all Indians see poverty. "We have been saying this about the economy and the polices. We were called anti-nationals. Now, Yashwant Sinha will be termed the same!" the editorial said.