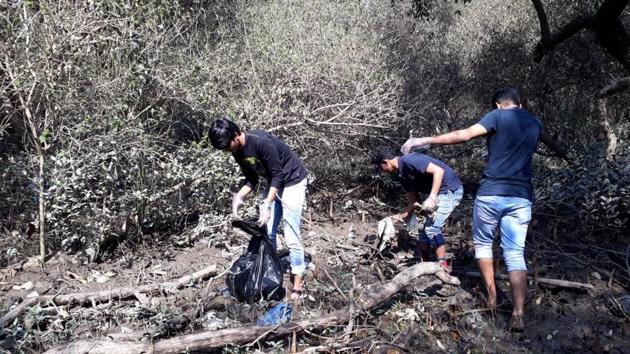 Since January, 8,000 tonnes of trash removed from Mumbai mangroves
Citizen groups join hands with state mangrove cell, remove remove garbage from eight mangrove areas in city
PUBLISHED ON APR 27, 2018 10:01 AM IST
With garbage clean-up at different city beaches having become a popular movement, citizen groups and the state mangrove cell have stepped up efforts to free the aerial roots of mangrove trees from trash.
Over the past four months (from January 1 to April 26), 8,000 tonnes (one tonne = 1,000 kg) of trash has been removed from eight mangrove areas — Dahisar, Gorai, Versova, Bandra, Bhandup, Airoli-Vashi, Sewri, and Ghatkopar — by officers and labourers employed by the state mangrove cell, 16,000 students from different colleges and citizen groups. While citizen groups worked during weekends, the mangrove cell has carried out the clean-up daily.
"Extensive beach cleaning has been happening in Mumbai but mangrove areas, which are adjacent to these beaches, had been converted into dump yards and breeding grounds for mosquitoes that further spread diseases," said N Vasudevan, additional principal conservator of forest, state mangrove cell. "Accumulated debris and garbage, which had been lying in these areas for many decades, has now been removed through regular efforts."
He added that the clean-up was very important from an ecological point of view as the roots of the mangroves were festooned with trash. "This will allow better nourishment of these trees and control flooding during monsoon," said Vasudevan. "We have about 10 people per location working through the day to remove the garbage. Garbage at least one or two truck worth has been removed per day. So far, the response from people has been good as 80 lakh kg is a massive amount."
The mangrove cell said maximum trash was collected from Versova (40%) followed by Dahisar (20%). This is an ongoing drive that will be stopped during monsoon months and then continued from October onwards, said officials. Marine debris removed from these mangrove areas included plastic fragments, cigarettes, plastic bottles, cups, glass fragments, paper, cardboard, cement bags, clothing, fishing nets, toys, tyres, batteries, food wrappers and vehicular parts to name a few.
"The municipal corporation helped us collect, segregate and transport all the garbage to various city dumping grounds. This drive will continue till the monsoon season sets in, and will be restarted post monsoon," said Prashant Deshmukh, range forest officer, western region, Mumbai Mangrove Conservation Unit.
Students and citizen groups removed 1,230 tonnes from all eight locations, said volunteers. Colleges such as Rizvi College of Arts, Science and Commerce, Bandra, Rajiv Gandhi Institute of Technology, Juhu Versova Link Road (JVLR), and South Indians' Welfare Society College, Wadala, were some of the major ones that participated. "Students were careful enough to take all precautionary measures such as wearing gloves and boots during the clean-up. Apart from just cleaning these areas, the students learnt about the mangrove ecosystem," said Sarthi Gupta, campaign coordinator.
CITIZENSPEAK
"From a federation of societies in Versova, we have written to the state mangrove cell appreciating their efforts for cleaning up mangrove patches. At a small mangrove patch in Versova they cleared 500 tonnes and 8,000 tonnes of refuse across Mumbai, which is remarkable. This is something that should have happened earlier, and the civic body should have taken it up. But thanks to these officers who are sensitive towards the environment and took wise decisions for this clean-up," — Satish Tripathi, former additional chief secretary, Maharashtra government and former forest secretary.
207 illegal structures removed from Ghatkopar mangroves
The Mumbai Mangrove Conservation Unit (MMCU) under the state mangrove cell removed 207 illegal structures including two temples, five shops and remaining shanties, from a 2-hectare mangrove patch at Kamraj Nagar, Ghaktopar on Thursday. As a part of the pre-monsoon demolition drive, this is the second location after Charkop where the drive was conducted. "We faced a lot of resistance from the local community while removing the structures but since notices were issued long back, such complaints will not be entertained," said Makarand Ghodke, assistant conservator of forest, MMCU.
TRASH REMOVED FROM EACH LOCATION
(Source: State Mangrove Cell)
WHY SHOULD YOU CARE
Mangroves are salt-tolerant plants, a common feature along the Mumbai coast. Mangrove roots naturally filter the water from pollutants, but in no way can they self-regulate the trash that accumulates in these areas.
Apart from preventing coastal inundation, mangrove trees capture carbon dioxide (CO2) from the atmosphere and store them as carbon. This process is called carbon sequestration, and it helps control global warming by reducing CO2 levels in the atmosphere.
Close