Six nullahs are polluting Mithi river in Mumbai, says survey
The MPCB had also told HC that the BMC is currently treating 635 MLD and 135 MLD is directly entering the sea.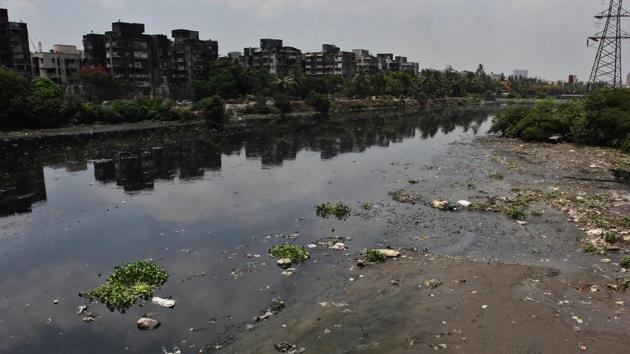 Published on Oct 19, 2017 11:57 PM IST
Untreated sewage and domestic waste is being dumped into Mithi River at six different locations in the western suburbs, says a survey by a city-based NGO.
Watchdog Foundation, an NGO, identified slums, illegal encroachments and some residential areas that are dumping untreated waste into Shraddhanand, Lelewadi, Oberoi, and Krishna Nagar nullahs in Andheri East (K East Ward), Jari Mari nullah in Kurla (L Ward), and Vakola nullah in Santacruz (H/East Ward). These 6 nullahs then unload this waste into the Mithi, says the survey.
The 15-km Mithi River starts from Powai, courses through Kurla, Saki Naka, Kalina and Vakola and meets the Arabian Sea at Mahim creek. According to experts, nearly 54% of the original riverbed has been lost to encroachments, roads and development.
The NGO submitted a report to Mithi River Development Authority, state pollution control board and Brihanmumbai Municipal Corporation (BMC), with satellite images showing the sources polluting the river. "We have also identified many polluting industries including ready-mix-concrete (RMC) plants and marble cutting industries, all located near Marol industrial estate. There are laundry industries, dyes and chemical, powder coating industries, and vehicle service centres without grease chambers in Kurla and along Andheri (East), which are also responsible for dirtying Mithi water," said Godfrey Pimenta, trustee, Watchdog Foundation.
Pimenta added that the effects of water pollution are not only devastating to humans but also to flora and fauna. "When toxic substances enter the sea at Mahim and other water bodies, they get dissolved or lie suspended in water or get deposited on the bed. This results in the pollution of water whereby the quality of the water deteriorates, affecting aquatic ecosystems. Further the pollutants can also seep down and affect the groundwater deposits and aquifers," he said.
On May 20, HT had reported that Mithi is the most polluted water body in the city, with pollution levels almost 13 times above the safe limit, according to MPCB's water quality assessment. The matter is being heard by the Bombay high court. On October 13, the MPCB submitted an affidavit in the HC slamming the BMC for not having adequate facilities to treat domestic sewage entering the various creeks and the sea in Mumbai.
"Major source of pollution of Mithi is sewage from slum areas, plastic waste and municipal solid waste," the affidavit read undersigned by MR Lad, regional officer, MPCB. "No proper garbage collection system has been implemented by the corporation, which is their responsibility."
The MPCB also told the HC that while the Bandra sewage treatment plant has the capacity to treat 769.9 million litres per day (MLD) sewage, the BMC is currently treating 635 MLD and 135 MLD is directly entering the sea.
Mithi River Development Authority officials said more than 95% widening and deepening of Mithi River at areas such as - Oshiwara, Walbhat, and Vakola areas - has been completed. "We have told BMC officials to carry out awareness drives at slums and also install nets along river banks to trap sewage at source. Along with this, desilting activity and construction of retaining walls has been done along almost 24,000 metres of the river. However, regular communication has been made to the municipal corporation to remove encroachments from remaining areas," the official said.
OFFIALSPEAK
"Waste segregation and composting units have been set up at various slum areas, and awareness drives have already been completed. We are monitoring the sewage inflow daily and desilting operations have reduced 75% of the regular inflow. It is, however, MPCB's responsibility to shut polluting industries in the area."
A senior civic official
Close Story