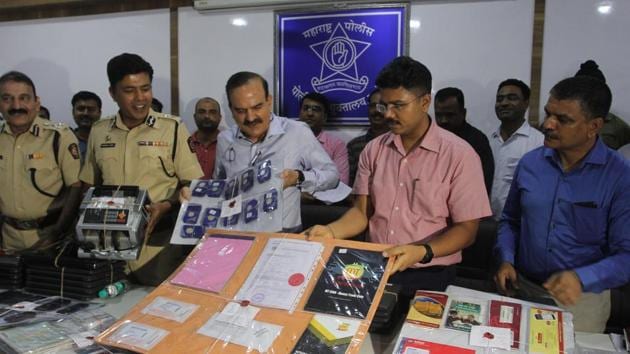 Thane techie held in
₹

500 crore cryptocurrency scam

Cops say the main accused is in Dubai; policeman may be involved

UPDATED ON JUN 06, 2018 11:39 AM IST
A day after the Thane police busted the cryptocurrency racket, a 26-year-old employee of the Ghodbunder Road company was arrested.
Taha Kazi, a resident of Mumbra, was the technical head and director of the Flintstone Group, an alleged real estate company. He had created the software application for the company.
The police said that more than 25,000 investors were cheated of more than ₹500 crore.
"Three accused in the cryptocurrency racket are still at large. In 2017, the accused introduced 10.5 crore coins but the demand went up to 12 crore," said Thane police commissioner Parambir Singh.
The mastermind, Amit Lakhanpal, is hiding in Dubai, said the police.
The police said Lakhanpal has studied till Class 8 but showed fake doctorate certificates. Many well-known magazines have featured Lakhanpal.
It was also found that an assistant police inspector from Thane police is also involved in the racket.
On Monday, the police raided two offices — one at Thane and another at Vikhroli — and busted the racket.
Singh said, "Many had invested in crores but none of them got any returns. A Delhi-based businessman Pravin Agrawal, 40, lodged a complaint with the police. He had invested ₹1.7 crore on the maturity date, his account used to have technical problems. He could only see that rates of the coins had increased by 5,000 times. We raided the offices after the complaint was lodged."
The police had detained two people but after verifying their role, Kazi was arrested.
Flintstone Group's cryptocurrency was called Money Trade Coin (MTC). Lakhanpal's aides cheated people promising 20 times return in six months. After the maturity date, they kept giving excuses to the investors.
"We also found a certificate of a fixed deposit of a private bank which shows balance of ₹2,500 crore and a standby amount certificate of ₹1,750 crore. This was to gain the trust of investors," said Singh.
The investors were promised flats and citizenship in African and Caribbean countries. They were given a swipe card to purchase online products.
"Last month, Kazi lodged a complaint with the Chithalsar police station, saying that their agent has cheated them of the invested money. This was done to mislead the investors," said Singh. The police said they would send a team to Dubai to arrest Lakhanpal. The cryptocurrency was launched at a price of $3 (USD) and Lakhanpal told investors that it would increase to $2,500.
Close