This Mumbai housing society is close to becoming 'zero waste'
Aug 13, 2018 12:24 AM IST
In the last two months, they have used the machine to recycle 1,860kg of kitchen and garden waste and generated 180kg of manure
Within a span of two months, a housing society in Borivli has managed to segregate and treat all the waste that it generates, sending only a small fraction of its trash to dumping grounds.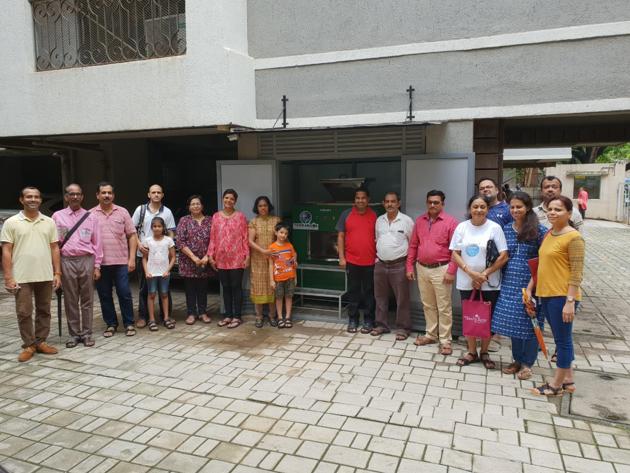 The Anchorage Co-operative Housing Society at IC Colony, Borivli (West), with 26 families, generates 43kg of waste per day – 26kg organic, 5kg garden, 2kg biomedical and 10kg of mostly recyclable dry waste.
They purchased an organic waste composter (OWC) machine that took care of the organic trash – mostly kitchen discards and garden waste. In the last two months, they have used the machine to recycle 1,860kg of kitchen and garden waste and generated 180kg of manure, which is used for fertilising plants in the building compound.
"We decided to study projects where treatment at source has been successful and our aim was to replicate a cost-effective model," said Darius Rodrigues, resident. "Our first challenge was to ensure that all our waste was categorised and collected properly. Joint efforts from all residents helped us achieve this."
Keith Fernandez, another resident said, "Space was a constraint in our building compound. However, we managed to convert a 10×6 feet area near our car park into a waste management space and fitted a 50-kg wet waste processing machine in May this year."
Citizens were assisted by the Brihanmumbai Municipal Corporation (BMC) and a Mumbai-based firm – Sustainable Resources – to understand and implement the entire waste management process. "The OWC has a shredder that breaks down the waste for faster processing, resulting in minimum electricity consumption and less space requirement," said Cassandra Viegas from Sustainable Resources. "The wet waste is put into the machine every day and the compost is removed once a week."
The dry waste consists of paper, cardboard, cloth, plastic, glass bottles, wood, milk bags, cans, tetra packs cartons, footwear, thermocol, and all types of metal. "These are separately collected and sent to BMC dry waste recyclers. We also collect all our electronic waste and will be sending it to central collection point at a nearby school," said Rodriguez.
The remaining two kilograms of trash such as sanitary pads, diapers, condoms, syringes, needles, shaving blades, unused medicines, medical waste that should be separated and disposed of are wrapped in newspaper and marked with a medical cross and is collected by the municipal dumper daily, said Fernandez. "We are now planning on growing organic fruits and vegetables within the society as there is excess manure," he said.
"It is essential to treat waste at source as city dumping grounds are saturated. Since most societies are not willing to spend a lot to install OWCs, we are convincing them to either go in for vermicomposting or to adopt drum composting. Either ways, it has to be done. Dry waste recyclers are being given more incentives to approach more societies. This is the only solution to waste-related issues in Mumbai," said G Patil, from BMC's solid waste management department.
Why should you care?
·Segregated waste leads to 80% reduction in waste being dumped at overburdened landfills
·60 % – mostly wet waste – can be recycled at source and 20% can be sent for safe recycling
·Reduces carbon footprint as it does away with the need to transport garbage over long distances
·Organic compost, recyclable waste, can lead to significant cost savings
(Source: RUR Greenlife ( Are You Reducing Reusing Recycling)