This Saturday, grab your jogging shoes and 'plog' around Navi Mumbai
Plogging' Is a Swedish term, which means picking up trash while exercising, more specifically, while running or jogging.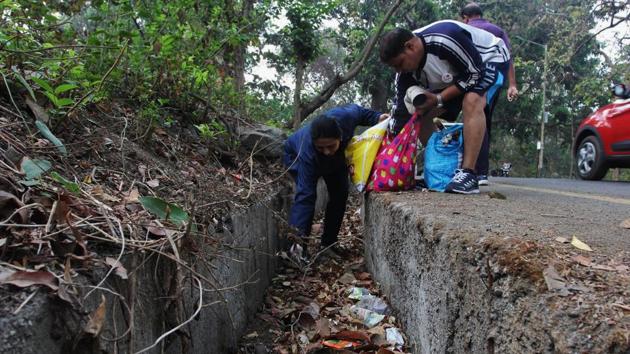 Published on Apr 13, 2018 12:30 AM IST
The recent success of the plogging event in Thane has inspired the NGO Robinhood Army to organise a similar initiative in Navi Mumbai. So if you are one among those who frequently go for morning jogs, and are interested in cleaning your city as well, you can participate in the plogging event this Saturday.
The pick-and-run drive has been scheduled at 6am from Utsav chowk to Central Park in Kharghar. The initiative is a joint collaboration between Robinhood Army and another NGO, Abhivyakti.
'Plogging' Is a Swedish term, which means picking up trash while exercising, more specifically, while running or jogging. The initiative is being spearheaded by Deepak Singh, the Navi Mumbai head of Robinhood Army.
He said, "I proposed the idea to my volunteers in the NGO and also to team Abhivyakti. Fortunately, they were very receptive to the idea and immediately agreed to be a part of the plogging drive."
More than 25 people have registered themselves for the clean-up drive.
"The event is aimed at sending out a message about the need for general hygiene and cleanliness, which affects the environment and the individual, alike. Keeping this in mind, we will also appeal to the passers-by to not litter anywhere in the city, as it defaces the surroundings," said Singh.
Kharghar is one of the well-developed nodes of Navi Mumbai and is very clean in comparison to other nodes. However, residents campaigned for cleanliness only until the conclusion of the central government's Swachh Survekshan in February. After the survey was over, residents have been littering public areas like before.
To generate more awareness on the issue of cleanliness, Robinhood Army decided to follow the footsteps of Thane residents who plogged at Yeoor forest early this month.
"Most of the registered participants regularly jog to Central Park and had raised concerns earlier about cleanliness in the city. The plogging drive at Yeoor was a trigger point for all of us. Hence, we decided to inspire others through this unique initiative," Singh said.
The Robinhood Army does not intend to limit the drive for one day but plans to replicate it in other nodes every Saturday. Volunteers from Robinhood Army will wear green outfits, while those from Abhivyakti will be in white. Other participants are free to wear any comfortable attire of their choice.
Anindita Roy, 45, Kharghar Sector 12 resident, said, "The Yeoor plogging event is a talking point even in Navi Mumbai. But I had no idea that a similar event has been planned in Kharghar too. It is quite exciting and I will try to participate in the event."
Participants are spreading the word to their friends, to ensure that more people give a helping hand in keeping the city clean.
"I came to know about the event through a friend of mine. It is a positive event which would inspire the youth. I will take part in the event for sure and will try to get my friends there too," said, Navneet Rane, 32, Belapur resident.
Box
Details of the event
Date- April 14, Saturday
Meeting point – Central Park
Time – 6am
Contact number for registration - 09769954143
Participants should compulsorily get bags to trash the litter, hand gloves and a mask
Close Story