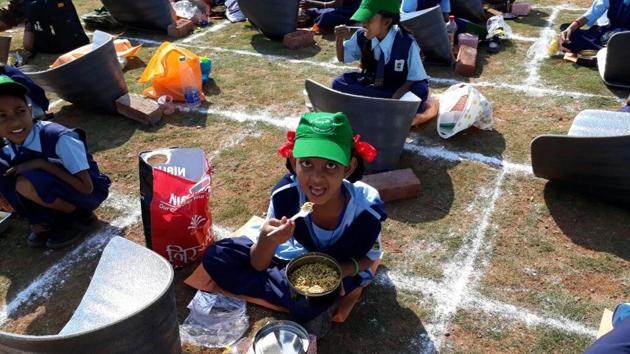 To set a record, 7,438 Mumbai school students cook noodles in solar cookers
The MBMC gave students raw materials and they were taught about solar cooker
Hindustan Times | By Ram Parmar
, Mumbai
PUBLISHED ON FEB 13, 2017 12:08 AM IST
With an aim to set a record and spread a message on renewable energy, 7,438 students from 59 private and civic schools participated in a solar cooking class in Bhayander on Saturday afternoon. Representatives of the Guinness Book of World Records were present at the event but did not confirm if it had set the world's largest solar cooking class record.
The event, called Maha Suryakumbh, was organised by the Mira Bhayander Municipal Corporation. The students cooked noodles in solar cookers.
The MBMC gave students raw materials and they were taught about solar cooker, said Harpal Singh Sokhi, a well-known chef.
Manoj Rathi, an expert in renewable energy, also guided participants. Anil Kakodkar, noted nuclear scientist and former chairman of the Department of Atomic Energy, attended the event."It was an opportunity to motivate students to celebrate solar power. That's why we titled the event Maha Suryakumbh," said Geeta Jain, MBMC mayor.
"We followed all guidelines laid down by Guinness officials. We had digitally counted all students," said Jain.
Earlier, 3,484 students, led by NGO Keshav Srushti, had participated in a similar event in Bhayander in 2014. It was followed by another solar cooking session where 4,780 students took part in Aurangabad in 2016.
Portable solar cooker, an environment-friendly alternative to conventional means, uses Sun rays to heat and bake food.
READ MORE
Sudarsan Pattnaik creates Guinness World Record for making tallest sand castle
Close