Train crashes into Navi Mumbai bus at unmanned train crossing
Published on Nov 24, 2018 10:53 PM IST
Three passengers suffered fractures, motorman escaped from scene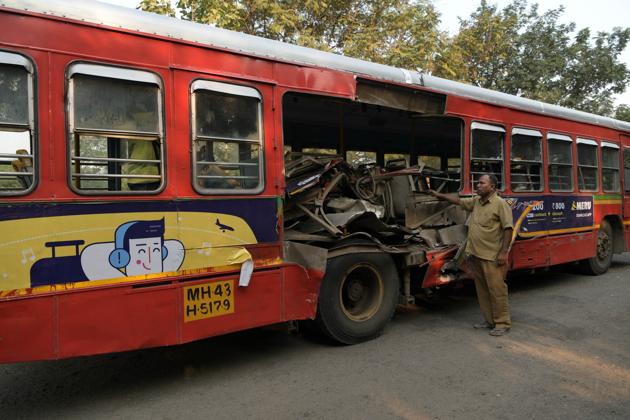 Hindustan Times |
, Navi Mumbai
G Mohiuddin Jeddy
Nine people were injured when an empty rake hit a Navi Mumbai Municipal Transport (NMMT) bus at an unmanned railway crossing at Juinagar on Saturday. The injured were inside the bus and were taken to DY Patil Hospital for treatment. Three, including a 12-year-old boy, have suffered fractures. Central Railway (CR) and NMMT have ordered enquiries into the accident.
The accident took place at 3.06pm, at a crossing between Sanpada car shed and Juinagar, which the CR says is unauthorised. Lawyer and motorist Amit Katar, 32, witnessed the accident. "The motorman seemed to apply brakes, but it took time for the train to come to a halt, by which time it crashed into the bus."
The police have detained bus driver Rahul Gaikar, 28, and conductor Tushar Dhom, 27. Gaikar told HT that he was following autorickshaws across the tracks. "As I followed them, the train that was probably moving very slowly, hit the bus."
Chief public relations officer of CR, Sunil Udasi, issued a statement in which he said, "The crossing on yard line between car shed and Juinagar is unauthorised. The road has been built by City and Industrial Development Corporation (Cidco) without approval of Railways. Railway has been insisting NMMC and Cidco construct a rail overbridge from past many years."
By 4.16pm, the empty rake and damaged bus had been cleared from the tracks. Both CR and NMMT said enquiries have been ordered into the accident.
Priya Ratambe, public relations officer, Cidco said the site of the accident was not under Cidco's jurisdiction. "The accident occurred in NMMC area," she said. Police inspector B N Auti said, "We are investigating who is responsible for the incident. Those guilty will be booked and arrested."
NMMC commissioner Ramaswamy N said the civic body would be constructing rumblers at the crossing to slow down vehicles. "We will also construct a rail overbridge at the spot after Cidco transfers the land for it. We will follow up and get it done at the earliest," he said.
Personalise your news feed. Follow trending topics